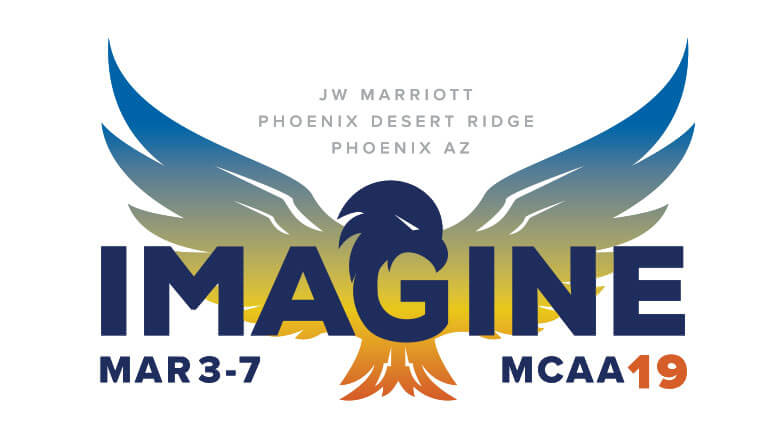 MCAA/MSCA's Women in the Mechanical Industry had a strong presence at this year's MCAA Annual Convention in Phoenix, AZ, March 3-7, 2019. Attendees added to their 2019 conference experience by testing out their swing at the Virtual Longest Drive Simulator, sponsored by WiMI. Two $500 gift cards were awarded daily to the top male and female scorers.
WiMI also sponsored two power-house woman speakers this year. BBC World News America's lead anchor and co-author of The Confidence Code: The Science and Art of Self-Assurance—What Women Should Know and The Confidence Code for Girls: Taking Risks, Messing Up, and Becoming Your Amazingly Imperfect, Totally Powerful Self, Katty Kay, emphasized the importance of confidence and how with it, we can take on the world! Yet when we show up without it; we don't ask for raises, request that important meeting, or take risks. In the success equation, research shows that confidence is even more critical than competence. Katty answered questions about where confidence comes from, why women tend to have less of it than their talents deserve and what we can do to acquire more of it!
Amy Marks, an industry thought leader and agent for change, discussed how to recognize the roadblocks, identify real opportunities, and create transformational change within the construction industry and your own business. She hit on the real roadblocks to success in enabling prefabrication, off-site, and modern methods of construction. Attendees left the discussion with a knowledge of worldwide trends in prefabrication and off-site construction as well as best practices for envisioning, creating and optimization prefab readiness. Amy is the CEO of XSite Modular, a design build firm that also offers consulting in modern methods of construction. Her firm focuses on the use of off-site prefabrication and the incorporation of design for manufacturing and assembly principles into complex, technology-embedded buildings.
All women in the mechanical industry were invited to attend the WiMI Reception Monday afternoon. Many took advantage of this great opportunity to meet and network with other amazing women in the construction and service industry.
See below for the full list of WiMI sponsored activities at MCAA19!
Virtual Longest Drive Simulator
Katty Kay: The Confidence Code for Women and Girls
Amy Marks: Driving Innovation with Modern Methods of Construction
WiMI Reception
Related Articles