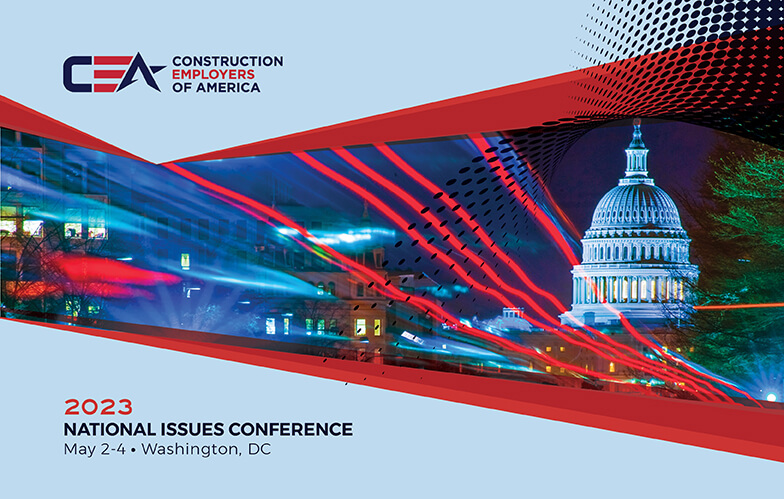 Registration is NOW OPEN for the 2023 National Issues Conference for May 2 – May 4, in Washington, D.C. and, there is an early bird special for registering early!
This year we will be in a prime location, in the Nation's Capitol, meeting at the Hyatt Regency Washington on Capitol Hill (400 New Jersey Ave NW). There will be Senate & House appointments scheduled for Wednesday, May 3rd and Thursday, May 4th.  Tentative schedule coming soon.
Your participation in Washington, D.C. is essential to achieving positive outcomes for your industry on key issues, including:
There are some good government construction industry policy developments happening in Washington, D.C. and we need in person MCAA participation to make sure your interests are well represented.
Results matter in legislative policy but that happens only after careful, painstaking, and well informed participation by industry representatives as the process churns along.
Withdrawal liability reform, Davis Bacon coverage on federal construction contracts and legal requirements for contractors doing business with the federal government are important topics that legislators need to be educated on, by people who know and work in the industry.
Policy makers in Congress and in the regulatory agencies don't know what to do about the workforce availability and demographic challenges unless you lend them your expertise.
If you plan to attend, take advantage of the new EARLY BIRD SPECIAL! If you register between now and Tuesday, February 28, 2023, you will receive $100 off the registration fee. Beginning on Wednesday, March 1, 2023, the price will go up to the standard registration fee price.
Related Articles