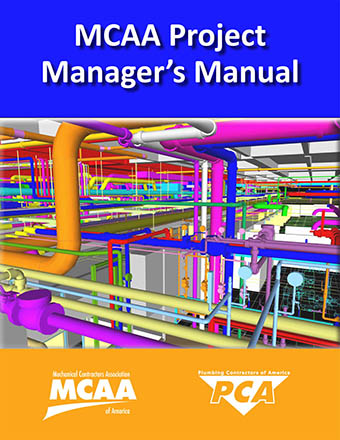 Let your PMs and others who manage projects benefit from the experience and insight of their peers with MCAA's Project Manager's Manual. The information contained in this manual was compiled by the MCAA Project Managers Education Committee and the faculty of MCAA's Institute for Project Management as well as mechanical contractors and individual consultants from across the country. It reflects not only the experience of men and women who have successfully managed construction projects throughout the country, but also the research of experts in our industry.
What Does It Cover?
The manual addresses all aspects of mechanical industry project management, including key topics like managing change orders and claims, job cost and labor control, productivity, scheduling, safety, and much more.
By itself, the manual is a concentrated source of general information on project management in the construction industry, offering tips for handling day‐to‐day situations and avoiding some of the most common pitfalls. When supplemented with your company's policies and procedures and specific information about your current projects, it becomes an indispensable tool for PMs to effectively manage their responsibilities, whether they are veterans or newcomers to the job. The manual also contains forms and sample letters that can be tailored to your company's needs, saving your PMs time.
Curious About Other Resources?
Visit MCAA's Resource Center for all of our valuable resources for running your business, safety and health, management methods and construction technology — available free to members with one click!
Related Articles