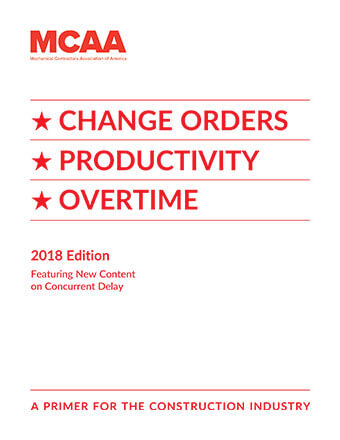 The 2018 Edition of MCAA's Change Orders, Productivity, Overtime features new material that clarifies the process of selecting labor inefficiency factors. A new chapter devoted to the subject of concurrent delay has also been added. This resource is a must-have for mechanical and other specialty contractors, attorneys in construction practices, and consultants.
The new material within the chapter on How to Use the MCAA Labor Factors clarifies the process of selecting inefficiency intensity factors. This information will prove useful for those using the MCAA Factors to prepare loss of labor productivity equitable adjustment requests.
In the concurrent delay chapter, authors Doug Patin, Esquire and Paul Stynchcomb, CCM, PSP, CFCC, explain how you can avoid being cited for potentially costly concurrent delays to a project. The chapter also provides information to assist you in defining and identifying concurrent delay in a project schedule.
Make sure your construction attorneys and consultants have this book! Look for the share icon under the story title to let them know it's available. Can't find it? It's three dots connected by lines, to the left of the print icon.
Download or Purchase Your Copy
Related Articles