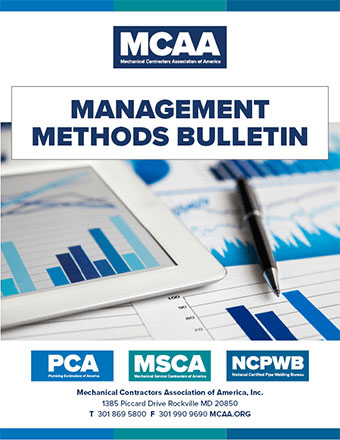 When unforeseen disruptions occur on a project—equipment failure or delivery delay, storm damage, labor issues—who and what's affected and what's the cost? More important, who covers the cost when the owner makes a claim? And, how does the contractor protect himself from such losses?
MCAA's Management Methods Committee has just released a new Bulletin—Understanding and Managing Risks Associated with Consequential Damages—that helps contractors avoid or manage the risks that arise when an unexpected disruption in a project results in a substantial financial impact that may include lost profits, lost rents, damage to reputation, down or idle time, and much more. Contractual waivers provide the first line of defense, and this bulletin offers negotiating strategies and examples of waivers that contractors may consider when working out the provisions of a project contract. Insurance coverage offers another option, although the availability and type of coverage for consequential damages is uncertain.
And, how are states addressing the enforceability of consequential damages claims? The actions of several states regarding this issue are covered and provide some guidance to contractors when entering into a contractual negotiation.
The Management Methods Committee wishes to acknowledge and thank William B. "Ben" Westcott of Andrews Myers, Attorneys at Law (Houston, TX) for preparing this informative and valuable bulletin.
Download your copy to start planning the consequential damages strategy for your next project contract.