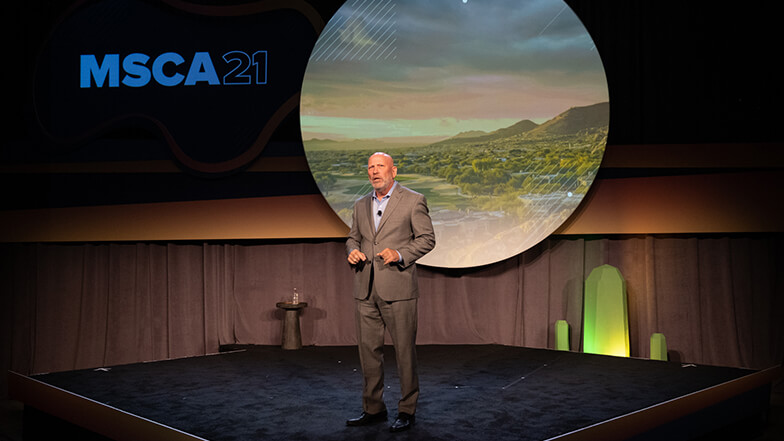 MSCA recognized outgoing Board members, welcomed a new chair and introduced the members of the 2021 – 2022 MSCA Board of Managers during the MSCA21 Closing Session on October 17, 2021.
Outgoing Board Members Recognized
Bob Dill and Kane Armistead were recognized for their service on the MSCA Board of Managers and their commitment and dedication to MSCA and the industry.
MSCA Welcomes New Chair Mark Crockett
Mike Star concluded his year as Chair of the MSCA Board of Managers and introduced the new chair, Mark Crockett. Mark is Vice President and Owner of Crockett Facilities Services in Lanham, MD, a company he and his wife Cindy have owned since 1999.
Mark is a graduate of the Calhoun MEBA Merchant Marine Engineering School and holds a Masters Certificate in Government Contracting from George Washington University. He grew up in south Baltimore and currently resides in Key West, FL.
He and Cindy have two sons and one granddaughter with a grandson due next month. In his spare time you will find Mark boating, fly fishing, paddle boarding or mixing a mean cocktail.
Mark Crockett Recognizes Mike Star, Introduces Board of Managers Members
In his first duty as MSCA Chair, Mark Crockett presented Mike Star with a certificate to thank him for his commitment to MSCA and all the time and effort he has devoted to the association over the years. He then introduced the 2021-22 MSCA Board of Managers members who work tirelessly to provide MSCA members with resources and educational programming to help grow their companies and prepare them for future success.
They are:
Rich Happel, Vice Chair
UMC
Mukilteo, WA
Renee Fiorelli, Treasurer
Peterson Service Company Inc.
Medford, NJ
Mike Star, Past Chair
Lane Associates
Island Park, NY
David Geith
Emcor Services/MESA Energy
Irvine, CA
Drew Harrison
Harrison Energy Partners
Little Rock, AR
Mike McHenry
Enginuity LLC
Mechanicsburg, PA
Michael Rosone
Arista Air Conditioning
Long Island City, NY
Adam Wallenstein
Neptune Plumbing and Heating
Cleveland, OH
He thanked everyone for their continued support and for the time they invest in MSCA, saying, "It is through our collective strengths and expertise that we will all continue to grow and prosper."
Related Articles