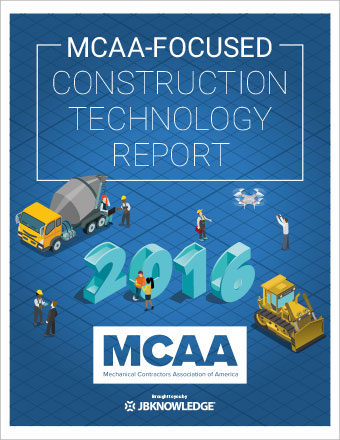 MCAA sponsored the 2016 Construction Technology Report, produced by MCAA's technology partner, JBKnowledge. The report provided an in-depth look at practices in the industry regarding technology spending, software selection, hardware use and IT staffing.
As part of our sponsorship, MCAA has now published a new MCAA-Focused report that segments out responses given by MCAA members and compares them to the rest of the construction industry. With this new report, MCAA members can not only see how their companies compare to other MCAA members, but how our membership compares to the industry at large.
This new resource is free to MCAA members as a benefit of membership.
Of special interest is that one of the key findings from the report focuses on how MCAA members approach BIM on projects. When asked who takes the lead on BIM, more than half of the members responded that they run them.  The report states:

"Given the higher level of BIM maturity, it is not surprising to see MCAA members taking the lead – it's often easier for specialty trades to ramp up on BIM, specific to their projects, than a General Contractor working to understand BIM from all perspectives of a project."
Leading the BIM process in construction takes a combination of experience with the software and having the personnel to manage the software. The new MCAA-Focused Report looks at which software MCAA members use and who they employ in their BIM departments. MCAA has also published reports specifically on BIM software as well as coordination software that links BIM to the Field.
This latest report also goes beyond virtual design and construction. It provides analysis on other aspects of technology, including software and apps that focus on plan management, safety, accounting, takeoff and scheduling.
To keep up to date on the latest in technology, visit MCAA's Technology Initiative website and follow @mcaageek.