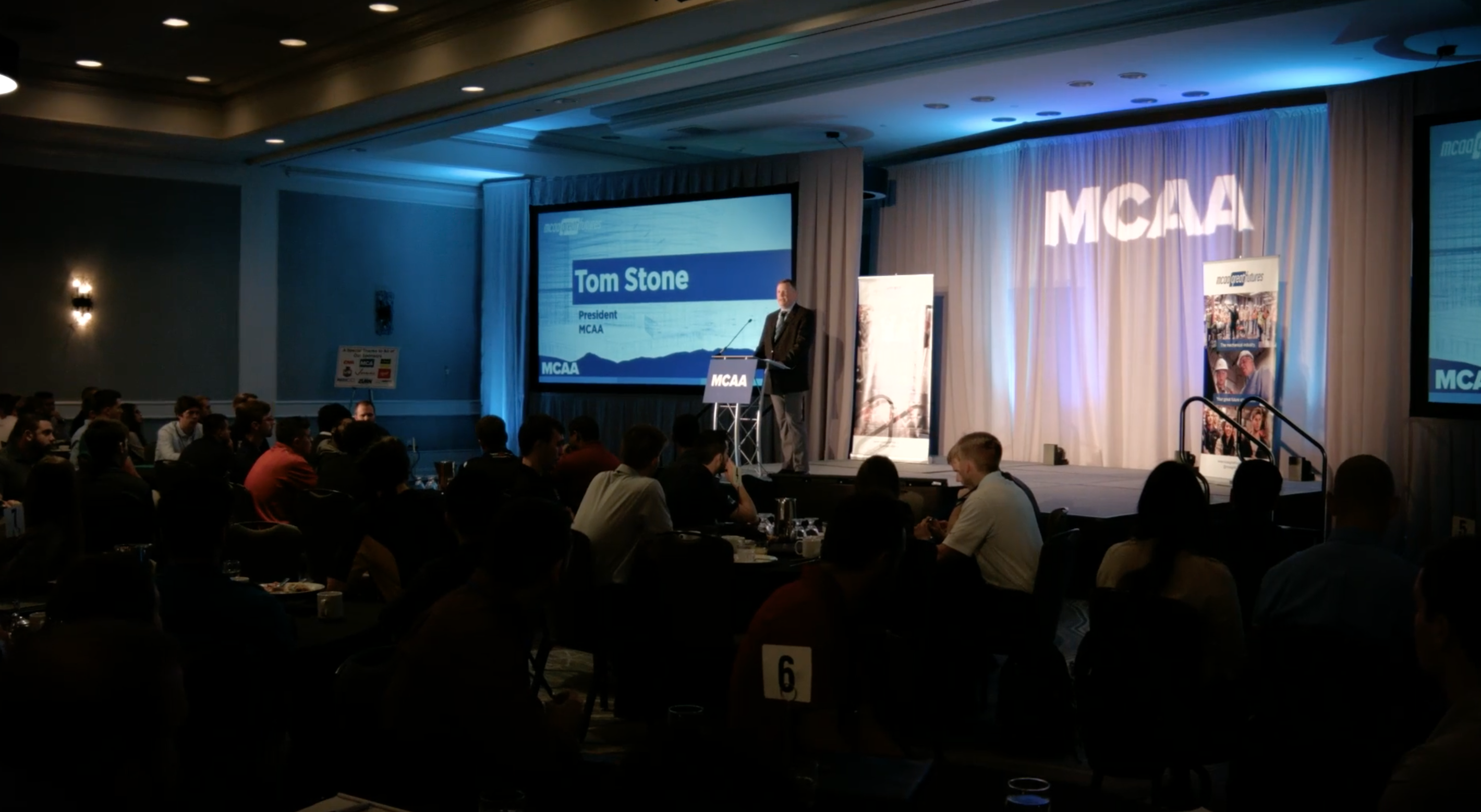 MCAA's 2016 Student Chapter and Mechanical Contractors Summit drew a record number of MCAA student chapter members, faculty advisors, contractors and local association execs for a Mile-High experience. New technologies, career advice, Student Competition news, a new mini competition format and a fabulous tour of a local brewery made for an over-the-top Summit to remember.
The Summit opened with a Technology Exhibit. Presentations from representatives of four of the industry's newest and most dynamic technologies were featured, including those using augmented reality and the latest iterations of 3D printing. Attendees tried on, tested, tinkered with and talked about the technologies that they will use in their future career.
The educational program opened with welcome remarks by MCAA President Tom Stone followed by session led by David Hyland and John Santangelo of Trimble who discussed Robotic Total Station, the latest updates in the device and how this technology is being used in the construction industry.  Then Timothy Drake, president of the University of NE-Lincoln student chapter, explained how his chapter won the 2015 Student Chapter of the Year and offered some ideas about what chapters could do to improve their chances of winning next year. Jon Finch of Milwaukee Tool led a session that took real-world examples of young people who used social media to enhance their careers but who made some mistakes that ranged from silly to career-terminal!  Finch suggested ways for students to avoid such mistakes and how to be social media savvy when using those media to bolster their careers.
Dr. Blake Wentz of the Milwaukee School of Engineering ran the mini competition and presented the project and the background for the annual mini competition—the construction of a college fraternity house. The highlight of this annual event was the game show format similar to TV's popular "Jeopardy" that involved all the student teams. A combination of teams 3 and 4 won the game and a $50 cash prize.
Career Development Committee member John Powell (San Ramon, CA) announced the project for MCAA's 2016-2017 Student Chapter Competition—the renovation of a wastewater treatment plant in Chippewa Falls, WI.  The project, which is significantly different than its predecessors, will require minimal actual design-build skills and planning  It also challenges each responding team to demonstrate their understanding of the profound water crises facing several states and to begin contemplating solutions.
A panel featuring four recent graduates (all of whom were members of the MCAA Colorado State University student chapter) now working for MCAA contractors answered questions from the audience about what they've learned since leaving the college and joining the workforce.  They discussed the importance of work place chemistry, learning from the "seasoned veterans" and the value of internships as an excellent experience and skills-building tool.
The highlight of the Summit, however, was a tour of the Breckenridge Brewery, a local Denver favorite. Attendees learned how old-world artistry and modern technology combined to make some of the best craft beer around and then enjoyed a dinner featuring some of Denver's favorite delicacies, including elk burgers.
Next year, we head to Indianapolis for more challenges and networking opportunities.
Related Articles