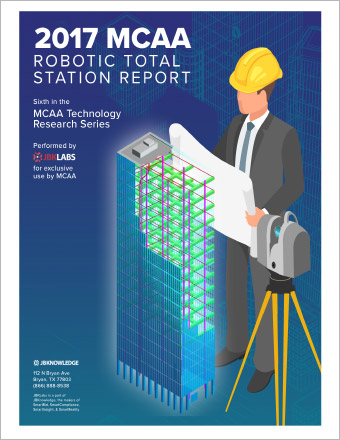 While the basics of heating and plumbing haven't significantly changed in a century, the tools and processes used to build have evolved exponentially in just the past few years. One such evolution is the development of total stations to assist contractors in more rapidly and more accurately laying out systems on the jobsite.
This sixth report in the MCAA Technology Research Series provides an introduction for members who are considering their first layout system purchase. It is also a valuable evaluation tool for those who are considering an upgrade to their existing system.
Like the other reports in MCAA's Technology Research Series, the report was written by our partners at JBKLabs exclusively for MCAA.
Additional Research Reports Help You Keep Up with Technology
3D Scanning
Forecasts point to increased use of 3D scanning for its ability to precisely measure an existing site, component or assembly and bring that information into a BIM model. It can save tremendous time in measuring, taking notes, designing, documenting conditions and rebuilding a BIM model. This report canvases 3D scanning technology. Included is an assessment of various laser, non-laser scanning and photogrammetric hardware and software tools for mechanical contractors.
BIM Software – A Comparative Analysis
BIM technologies can expedite construction and maintenance work, increase precision, and prevent mistakes. This report explores scanning, tracking, layout, design and fabrication technologies using BIM and other software tools. Focusing on MEP, the report includes an assessment of various BIM software for BIM model authoring, model review, construction management, and analysis software tools for mechanical contractors. This snapshot evaluated the products as of the second quarter of 2016.
BIM to Field Software – A Comparative Analysis
This report focuses on applications that can be used to allow access to BIM models and data from the field. These applications empower the remote mobile device to have access to the same data as the powerful BIM workstation in the office.
Field Service Software
Service software is a foundational tool for running a service business. At the core of your business is the call, quote, work order, invoice and payment workflow. Now weave in the transactional relationships that interconnect with that core workflow and it becomes clear that efficient visibility and management of that complexity is key. This report analyzes the current state of service software deployment and helps demystify the process for evaluating and implementing service software in your organization.
Safety Apps Report
This report evaluates numerous applications on the market for safety professionals and foremen. Most of these apps, it finds, are geared towards documentation. Contractors are using analytics on this data to identify root causes and trends. Predictive analytics, which analyze historical data, current projects and weather can be used to predict higher chances of incidents happening, thus providing powerful tools to help prevent them from occurring.
Want More? Additional Reports Are On the Way!
Watch our website and social media feeds for announcements when they're available.