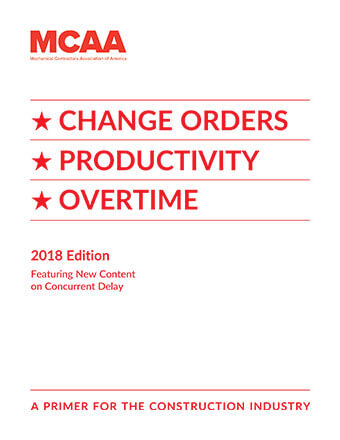 The 2018 of edition of MCAA's highly regarded construction management publication, Change Orders, Productivity, Overtime—A Primer for the Construction Industry, has received the National Electrical Contractors Association's (NECA) full endorsement.
NECA endorsed the contents of the publication as being just as applicable to the electrical construction industry as they are to the mechanical piping and plumbing trades, furthering its use to benefit both associations' memberships and the industry as a whole.
The publication has become a standard in the construction industry and is widely relied upon by mechanical and other specialty contractors, attorneys in construction practices, and consultants.  The 2018 edition includes new material that:
Clarifies the process of selecting labor inefficiency factors, which will prove particularly useful for those using the MCAA Factors to prepare loss of labor productivity equitable adjustment requests
Explains how you can avoid being cited for potentially costly concurrent delays to a project. The chapter also provides information to assist contractors in defining and identifying concurrent delay in a project schedule.
The publication's lead author, Paul Stynchcomb, CCM, PSP, CFCC, collaborated with Doug Patin, Esquire on the concurrent delay chapter.
This latest chapter, like the others in the publication, was peer reviewed by a panel of MCAA contractors. Peer reviewers for the new chapter were: Robert Beck, President of John W. Danforth Company in Tonawanda, NY; Steve Dawson, President of Harrell-Fish, Inc. in Bloomington, IN; Brian Helm, President of The Helm Group in Freeport, IL; and Adam Snavely, President and CEO of The Poole & Kent Corporation in Baltimore, MD.
Download or Purchase Your Copy
Related Articles