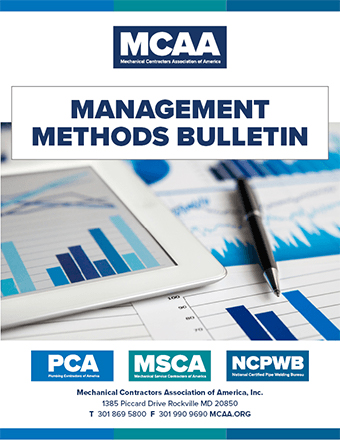 If you're looking for a fabricator that will make consistent repeatable pipe cuts for a fraction of the cost of commercial cutters, check out the award-winning innovation created by Air Masters Corporation of Fenton, MO and described in a recently-released MCAA Management Methods Bulletin.
The idea for the fabricator was sown when Air Masters started looking around for fabrication equipment that would reduce shop time, enhance the services it offers to its customers and increase its competitiveness in the marketplace. However, Air Masters discovered that pipe fabricators that would meet its needs could cost as much as $250,000, a substantial investment for a small company.
Air Masters invented a solution to this challenge—the CNC Pipe Fabricator. It was created with already existing components and custom-designed software. The fabricator was designed for 2 ½" to 12" pipe, mounts on the end of any pipe roller bed and can make straight, inside bevel, outside bevel, saddle cuts or hole selected. Its total cost came to less than $30,000. And, in recognition of its innovation, Air Masters was presented with the E. Robert Kent Award for Management Innovation.
So, if future plans for your company include a pipe fabrication operation, the CNC Pipe Fabricator may be a good option.  Find out more about this impressive innovation.