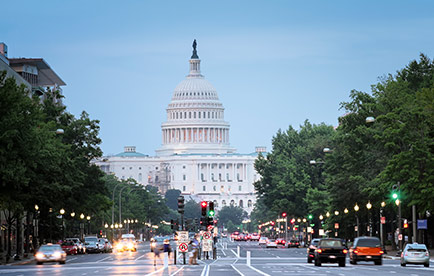 MCAA's Government Affairs Committee has been busy protecting our members' interests on Capitol Hill. Progress is being made on issues such as multiemployer pension plan reform and equitable compensation for COVID cost impacts. MCAA is also working to prevent the misclassification of employees, protect Federal construction contracts against Internet reverse auctions, and support legislation that would expand apprenticeship and pre-apprenticeship.
Multiemployer Pension Plan Reforms
The much-delayed multiemployer pension reform proposal is moving forward in fits and starts.
Because it now appears the next COVID recovery measure will progress under Reconciliation procedures, only the fiscal aspects of the proposed multiemployer reforms will move forward under Reconciliation. These reforms affect the 220 or so critical and declining plans – with a massive Federal appropriation for the Pension Benefit Guaranty Corporation (PBGC) to secure and fund full benefits for participants in the most severely distressed plans for the next 30 years.
The other aspects of the long-proposed reforms – reform of funding rules, and, for MCAA most critically, new plan designs such as Composite Plans, cannot proceed under Reconciliation, so now must wait for House and Senate leadership to deliver on their promise of new plan design options on a regular order measure later in this session of Congress.
Direct Federal Construction Contract COVID Cost Recovery
The MCAA initiative to provide for full equitable compensation for COVID cost impacts on direct Federal construction projects awarded pre-COVID and performed after the COVID emergency work protocols were put in place continues to make measured progress. MCAA, in conjunction with the New York City Tri-State Chapter of the National Association of Minority Contractors (NAMC), are pressing House and Senate lawmakers to adopt Federal force majeure public contract administration policy changes. These changes would allow full COVID cost impact recovery in addition to contract time extensions. A similar proposal had been included in earlier version of the HEROES Act proposal from Congressional committees last year. The MCAA and NAMC proposal is a specific adaptation of that more general recommendation that stalled in the last Congress HEROES Act negotiations.
Protecting the Right to Organize Act
MCAA's Government Affairs Committee is analyzing the latest union organizing measure, the Protecting the Right to Organize Act (PRO Act), to see where its provisions might extend out from impacts on open-shop employers to directly affect the interests of union-signatory employers.
While the proposal gained passage in the House in the last Congress, it is expected that its progress this year in both the House and Senate may take a back seat to the more pressing and bipartisan effort to spur economic recovery with a badly needed infrastructure investment measure.
Regulatory Developments
As with any change in Administration, the pace of regulatory reversals on items of interest to MCAA members is broad, starting initially with the standard regulatory freeze.
MCAA expects the late Trump Labor Department initiative redefining the classification criteria for categorizing workers as "employee" under the Fair Labor Standards Act will undergo reversal.
MCAA filed comments on that proposal late last year asking the U.S. Department of Labor (DOL) to participate with the Internal Revenue Service in an industry-by-industry, government-wide set of guidelines for proper classification of workers as either employees or independent contractors and seek whatever Congressional action is necessary to rationalize the patchwork of various Federal rules defining worker classification.
It should be noted that the aforementioned PRO Act would adopt the ABC control test for defining "employees" under the National Labor Relations Act. This supports MCAA's position in a joint brief with the United Association (UA) to the National Labor Relations Board (NLRB) last year. The brief urged that worker misclassification itself, judged by whatever standard, should be considered an unfair labor practice of denial of that misclassified worker's rights to engage in protected concerted activity as an employee independent of any other unfair labor practice charge.
Direct Federal Construction Contract Selection Procedures – Ban On Reverse Auctions, Proposed FAR Case On Subcontractor Bid Listing
Also in December, the Trump Administration's General Services Administration proposed a long-pending ban on reverse auctions for direct Federal construction contract procurement. The proposal on its face may have been limited to only some competitive negotiation or low bid or other price-only selection procedures.
MCAA's comments, filed with the Government Accountability Office (GAO) in December, called for a re-proposal enacting the clear 2020 omnibus spending provision direction that Internet reverse auctions cannot be used on any or all direct Federal design and construction contract selection procedures.
The MCAA comments also requested a Federal Acquisition Regulation (FAR) case examining the re-adoption of subcontract bid listing on all direct Federal bid or proposal submissions for price-only selection procedures. MCAA's comments can be downloaded here.
President Biden Unwraps IRAPs
President Biden rescinded Executive Order (EO) 13801, the Trump Administration EO that led to the development and promulgation of Industry Recognized Apprenticeship Programs (IRAPs). This action came ahead of a meeting between President Biden, Vice President Harris, and leaders of the North American Building Trades Union (NABTU) on Wednesday, February 17, 2021 to discuss the Administration's infrastructure initiative.
MCAA, along with virtually all industry groups, filed comments on the IRAP proposal in July 2019 calling for an exemption of IRAP adoption in the construction industry, which was granted, but remained subject to change. Today's Biden Order rescinds, EO 13801, directs the Labor Department to stop approval of Standards Recognition Entities (SREs, the sponsors of IRAPs) and defunds existing SREs. The Biden Directive also expresses support for the proposed new National Apprenticeship Act to expand apprenticeship and pre-apprenticeship and other reforms. MCAA, along with the Construction Employers of America (CEA), supports the legislative proposal. The Biden directive also reinstates the National Advisory Committee on Apprenticeship at the Labor Department. It is widely expected that promotion of registered apprenticeship will continue to be an integral part of the Administration's infrastructure initiative.
Questions about any of this information should be directed to John McNerney.
Related Articles