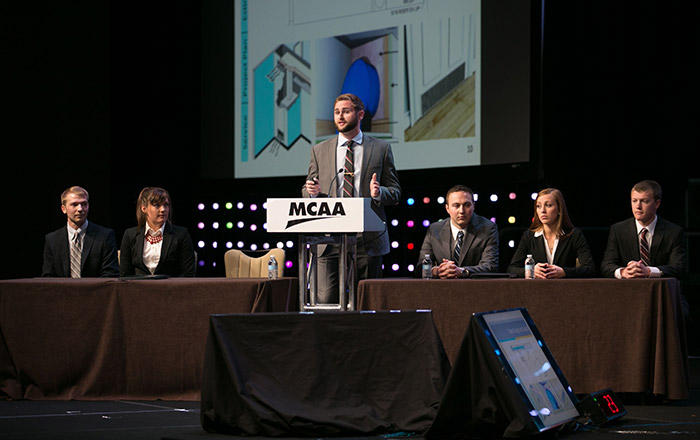 You may think you know all there is to know about renovating a wastewater treatment plant, but then again maybe not. Check out the ideas and approaches presented by the finalists in MCAA's 2016-2017 Student Chapter Competition on March 7, at MCAA 2017 in San Diego, CA.
The top four scoring teams who won the honor of presenting their proposals during MCAA's 2017 convention are: the Rocky Mountain Chapter of MCAA at Colorado State University; the MCAA Student Chapter at the the Milwaukee School of Engineering; the University of Missouri-Columbia Student Chapter of the Mechanical Contractors Association of America; and the Student Chapter for Mechanical/Electrical Specialty Contracting at the University of Nebraska-Lincoln.
This year's project, which was provided by the J.F. Ahern Company (Fond du Lac, WI), involves an overhaul of the wastewater treatment facility that serves the city of Chippewa Falls, WI. The winning team will act as a general contractor and assist and coordinate the completion of the design on the improvements of the plant. The team will also strategically plan and execute a very detailed construction effort using all the trades necessary to complete the project on time, within budget and without shutting down the plant.
You will also hear some interesting ideas from the competing teams about how to protect residents from lead exposure while the city replaces its aging water pipes.  This particular challenge—an extra credit project—was intended to incite the students' awareness of and enlist their problem-solving skills about issues our industry is facing with aging infrastructures in many areas of the U.S.
The competition results will be announced during the Awards of Excellence Breakfast on March 8. The winning team will win $10,000, the second-place team will receive $5,000 and the other two finalists will receive $2,500 each.
Make sure you add this always-exciting event to your list of "must attends" during MCAA 2017. The Competition will be held on Tuesday, March 7, 2017 from 1:30 – 3:00 in the Grand Ballroom.