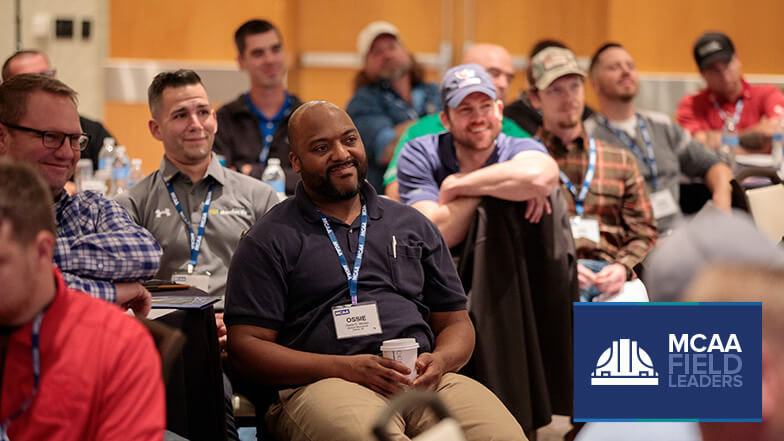 MCAA's Field Leaders Conference has earned rave reviews for its industry-specific content that gives field leaders at all levels the skills, understanding, and inspiration to positively impact their company's bottom line. Learn what past attendees have to say and see how the conference content will benefit your field leaders and your company. The conference will offer the same education in Indianapolis, IN (October 12-14, 2022) and Kansas City, MO (November 2-4, 2022). Register your field leaders today!
Here's what past attendees had to say about the conference:
"This whole conference is great l wish I had this 20 years ago when I started running work."

– Boston, 2021
"I just want to thank each and every speaker for telling their story. I know you guys have probably heard it before but your passion for wanting to make us all better foremen, better husbands and just better people in general is amazing and again, I thank you. I learned a lot today and I can't wait to take it home and start using it."

– Boston, 2021
"This was truly a well-presented conference. I attend and study a lot of leadership courses and this blew me away. Mark and Greg's approach from a contractor's perspective was, in my opinion, what every field worker (not just field leader) needs to hear to drive change in our industry. Thank you for just an EXCELLENT conference."

– Rochester, 2022
"This was the best learning experience I have had since joining this trade. I would love to see more people in our company and local come to these events."

– Boston, 2021
"I will recommend this to our own company leaders to send more people for this training. I plan to call them on my ride home and not wait at all."

– Rochester, 2022
Field leaders will learn to:
View themselves as professionals
Understand how their performance impacts the bottom line
Establish tangible goals
Appreciate the importance of customer relationships and their role as the face of the company
They will return to your company with:
Real-life tips and tools for success on the job site
Ways to control crucial job site conversations
An action item list they can put to work right away
A fresh perspective on the latest tools and construction resources
A network of other jobsite leaders to advise and support them
The inspiration to take this knowledge and apply it to better themselves at work, and in life
Don't delay – register your field leaders today!
Related Articles