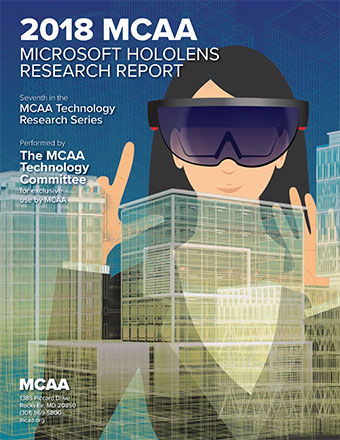 What was once thought of as science fiction or construction fantasy is starting to make its way on to construction job sites. In late 2016, Microsoft released developer editions of their mixed reality headset, called the HoloLens. It represented the first time that a big tech company had offered a stand-alone headset that could overlay holograms in the real world that would stay in place as you moved around and changed your perspective.
For the construction industry, it offers a new path towards design, collaboration and visualization. The HoloLens allows you to take BIM models and overlay them on job sites or in conference rooms. You can see how your designs exist in the spaces you are building in. It allows you to move around them to check for collisions, plan for installation and visualize in real-space the plans that were once only on paper.
In MCAA's Technology Research Series seventh installment, the MCAA Technology Committee explored the capabilities and potential of the Microsoft HoloLens for mechanical, plumbing and service contractors. Over the course of a year, the committee tested and proved that these devices are not only capable of making contractors more efficient, they can be seen as an immediate differentiator to your competition.
The report looks at how the HoloLens can be used to perform common processes for contractors. While it offers some extraordinary potential for jobsite planning and marketing, some areas like service had a limited role. These limitations stemmed from a lack of software that was designed for tasks important for service work.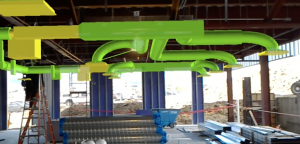 Software plays a very important role in the usefulness of the device. To their credit, Microsoft was very savvy in the rollout of their new product. Right from the beginning, they partnered with leading software developers from multiple industry sectors to create apps designed for the HoloLens. This allowed for access to software applications for a lot of targeted applications, even during the roll-out of their developer editions.
Thankfully, one of the companies they partnered with was Trimble. Through Microsoft's collaboration, Trimble developed tools for the construction industry to visualize construction models in real space. In the past year, more software developers have created solutions for the construction industry. The committee evaluated these apps in the report and made recommendations for software depending on the workflows that you intend to use the HoloLens for.
Software available today make it possible to pull BIM models into the device and visualize with extremely little training. They also offer capabilities in workflows that are not available on any other device. For contractors that are already working with BIM, this is another tool to increase efficiency and productivity.
The MCAA Research Report goes through five workflows to test the effectiveness of the device. In some cases, although a HoloLens could be used to perform a task, it was not the most efficient way of doing it. For other tasks it presented options and efficiencies that simply were not available using any other tool.
The HoloLens has proven to be an effective tool ready for the industry, the question is, how can your company ready to benefit from its use. To learn more, download the report and watch for updates. Software is in development by leading industry manufacturers that should push the capability of the HoloLens even further. The report is available to MCAA and MSCA members as a complimentary benefit of membership.  With the release of new applications scheduled for the HoloLens, the report will be updated throughout the year.
Related Articles