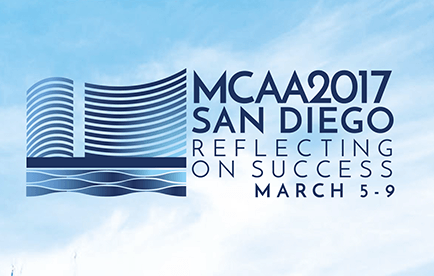 A lot has changed in the 17 years since MCAA last visited San Diego, but one thing hasn't—no other industry convention offers the highest level of education, world-class social events and exceptional networking opportunities.
Invest in your future…join your colleagues at MCAA 2017. Visit our Convention website and register now!
We've designed our educational sessions around the issues that are driving our industry and your business today and into the future. Experts in innovation, leadership development, generational dynamics and talent recruitment, technologies and their application in our industry, economics, project management improvements, strategies and LEAN Integrated Project Delivery will help you overcome the current challenges to your business and move ahead of the competition.
An important value-add to our convention's educational programming is our Annual Manufacturer/Supplier Exhibit. Learn what's new with equipment, tools, technologies and services from more than 130 companies—including 11 first-timers.
You'll also have a chance to meet future professionals who are gaining the skills, knowledge and experience they need to join our industry—and, they're eager to see how your business may fit in their future. Be sure to stop by and meet intern and full-time job candidates from our many student chapters at the Student Chapter Exhibit.
Our lineup of star-studded general session headliners is impressive:
• John Boehner, former Speaker of the House of Representatives
• Emmitt Smith, the NFL's All-time leading rusher,
• Dr. Peter Diamandas, visionary
• Astronaut's Mark and Scott Kelly, NASA's answer to "the Jersey Boys"
• United Association General President Mark McManus, and
• Goldie Hawn, Oscar and Golden Globe winning actress!
And what would an MCAA convention be without incredible social events? We begin the week with a party on the USS Midway, the longest-serving aircraft carrier of the 20th century. Plus, we'll cap the week with Grammy-nominated pop rock band OneRepublic!
All of this takes place in one of America's most beautiful, exciting and dynamic cities—a destination known for its perfect year-round weather. Our convention hotel, the dynamic Marriott Marquis San Diego Marina, sits right on San Diego Bay with views as spectacular as you imagine.
All of the details are in the MCAA 2017 Planning Guide. Also, visit our Convention website and then register soon for your first choice of accommodations.
See you in San Diego!