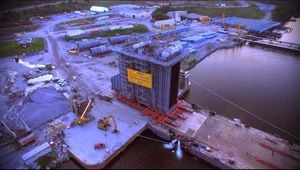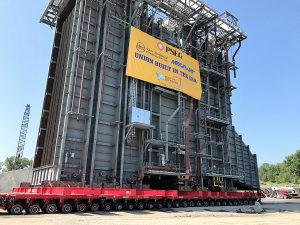 Durr Mechanical Construction and its joint venture partner Megrant recently wrapped construction on the largest prefabricated Heat Recovery Steam Generator (HRSG) ever built in the U.S. Union built under the National Maintenance Agreement in Coeymans, New York, the HRSG was floated by barge down the Hudson River to its destination in Sewaren, New Jersey, where it will be installed at a new combined-cycle power plant.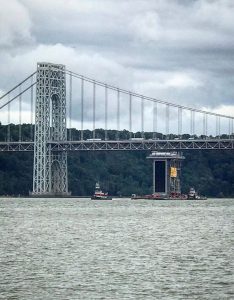 The HRSG is the heart of the power generation process. This unit stands 140 feet tall, 70 feet wide, over 110 feet long, and weighs approximately 4,000 tons. Components for the HRSG came in ten 600,000-pound C-Frames along with all its piping, casing, drums, cat walks and accessories. Over seven months, the C-Frames were assembled, welded together, drums installed and dressed out with piping, valves, instruments, platforms and accessories. The penthouse was separate to allow for sufficient clearance under the Hudson River bridges.
At an average speed of 4.4 knots (5 MPH), the one and one-half day trip down the Hudson River was uneventful and it arrived at Sewaren on schedule. What wasn't expected with the extensive public and news organization interest as the HRSG travelled down the Hudson. Durr received a constant stream of videos, photos, and comments as it made its way south.