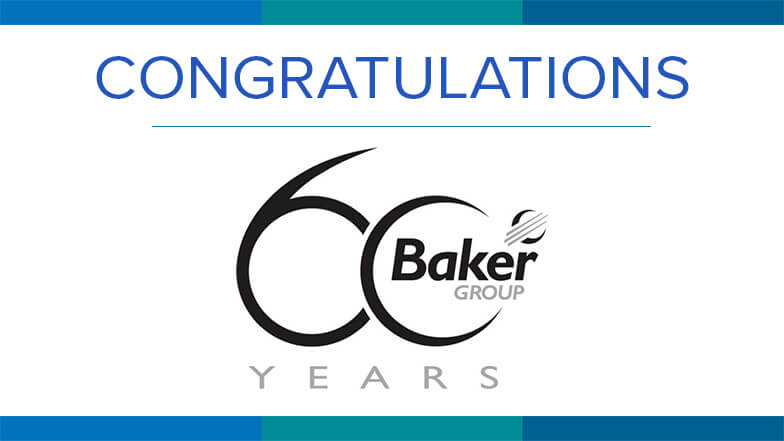 Baker Group, an MCAA member, is celebrating 60 years in business. Founded as a small plumbing contractor in 1963 on the east side of Des Moines, Baker Group now provides design, installation and servicing solutions to commercial, industrial and institutional building clients. MCAA congratulates the entire Baker Group team on achieving this milestone.
"The strongest indicator of future performance is always past accomplishment," said Board Chair BJ Baker III, who is the son of founder BJ Baker, Jr. He served as the organization's CEO from 1984 until transitioning to his current position in 2021. "We are proud of our history and the way we have grown by relentlessly focusing on meeting the evolving needs of clients. This has offered us an opportunity to proactively develop further expertise and expand our reach."
Headquartered in Ankeny, IA, with locations in Des Moines, Cedar Rapids and Davenport, Baker Group has grown to one of the Midwest's largest full-service specialty contractors with extensive capabilities accommodate projects ranging from complex mission-critical facilities to small office improvements.
Specifically, Baker Group provides design, installation and service solutions in HVAC (heating, ventilation and air conditioning), plumbing and piping, electrical systems, sheet metal, security systems, fire alarm systems, parking revenue control, compressed air, advanced manufacturing, automation, facility maintenance and operations, and more.
In 2019, Baker Group became an employee-owned organization. With literal ownership in the organization, employees have been critical to growth. Moving forward, Baker Group is focused on continuing to bring increasingly efficient and innovative design and build services to even the most complex of projects.
"Our future most certainly includes new services and delivery techniques in response to our client needs," said Gary Bridgewater, the company's Chief Executive Officer.
Baker agreed, saying, "From our founding, we have been committed to ensuring our clients receive sustainable, high-value products and services; high-quality design and construction; cost-effective installation and on-time completion," he says. "That is why we are still here and still growing 60 years later. Whatever the project, whatever its size, our employee-owners committed to making sure our clients can always expect the best."
Related Articles