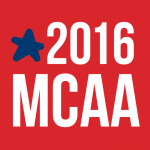 The memories of MCAA's best convention ever are now available on our photo site, mcaa.smugmug.com. You can view, download and share photos from special events or special moments with family and friends…for free as an MCAA membership benefit.
To access the photos, go to the link below, click on the MCAA 2016 folder and then choose the gallery you would like to view (there's one for each day of MCAA 2016).
Scroll through the "thumbnail" photos until you see the photo you want and then click on it. Look for an icon on the lower far right, just under your desired photo, to download. It's a downward area above a horizontal bar.
A recap of all MCAA 2016 events is coming next week on YouTube.
Watch the Recap Video by Builtworlds