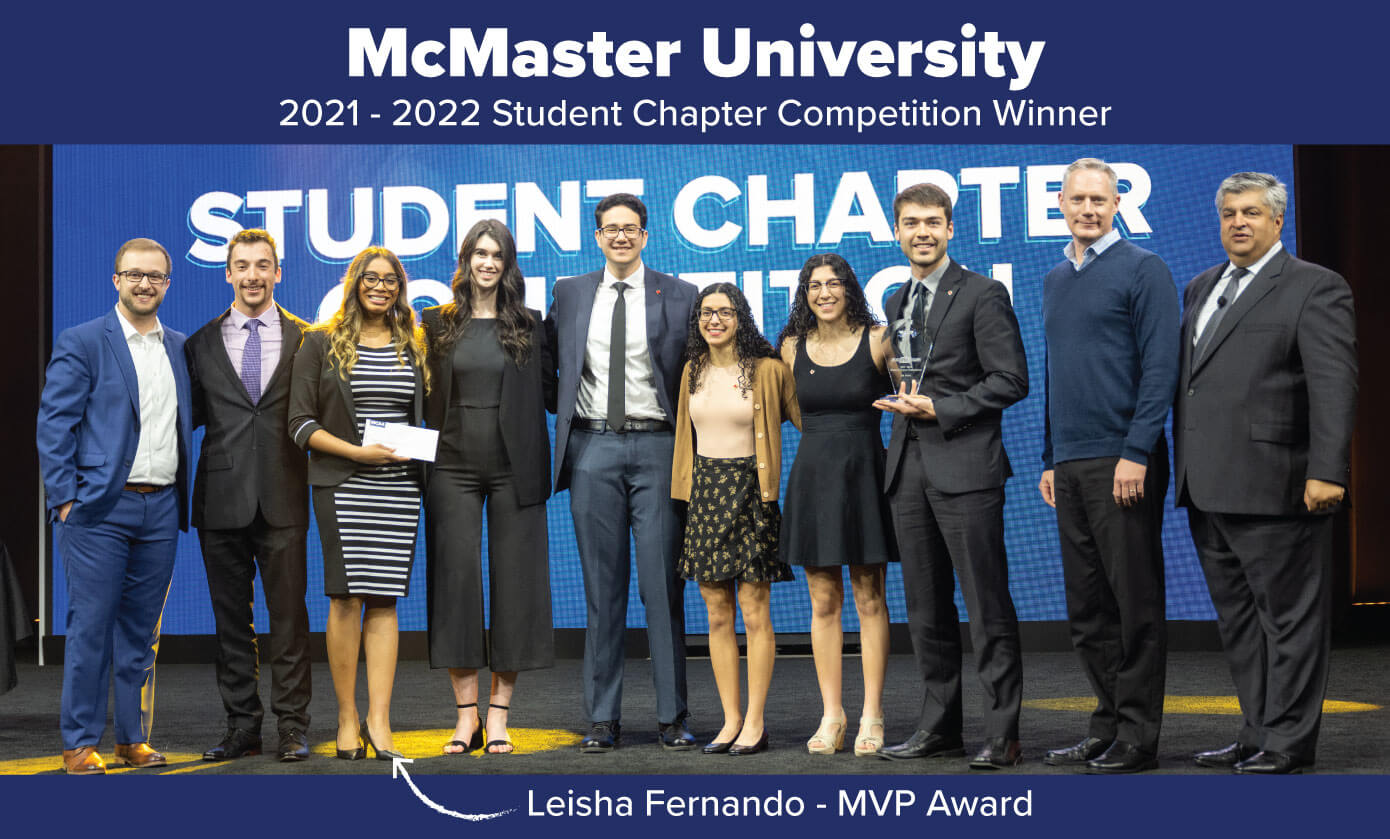 At the MCAA22 Awards of Excellence Breakfast on March 16th, McMaster University was awarded the top prize of $10,000 and a trophy for their outstanding work on the 2021-2022 Student Chapter Competition.
Missouri State University was the runner-up, placing second and received a trophy and check for $5,000.
Kansas State University and Kent State University rounded out the final four. Each of these Honorable Mention finalists received trophies and $2,500.
Six teams (out of the 23 chapter submissions) were recognized with Merit Trophies and checks for $1,000. They are, in alphabetical order:
· Ball State University
· Binghamton University
· Fairleigh Dickinson University
· Milwaukee School of Engineering
· Pittsburg State University
· University of Nebraska
---
The 2021-2022 project was to create a proposal for the Lake Placid Olympic Center Revitalization. This included removing the existing refrigeration equipment, related equipment and materials, controls, electrical, HVAC, plumbing, and related systems inside the existing refrigeration room and the removal of the exterior cooling tower. Upon completion, the new refrigeration system was to feed three existing indoor ice rinks, and a new outdoor oval rink.
Fun Fact: This is the same building from the 1980 Miracle on Ice game!
Thank you to the following companies for their special contributions to the project:
• Mollenberg-Betz, Inc of Buffalo, New York (supplying the project)
• Procore (use of their Project Management software)
• Trimble (use of Trimble Estimation MEP software)
• Ferguson (providing pricing for pipe values and fittings)
---
MCAA Career Development Committee Member – Judges:
• Vincent Eckerson, Arista Air Conditioning Corporation
• Scott Hinton, Harrell-Fish, Inc.
• Ted McHugh, West Chester Mechanical Contractors
• Matthew Miller, Binsky & Snyder
• Michael Russo, Fresh Meadow Mechanical Corporation
• John Ziemann, Mollenberg-Betz, Inc.
Thank you as well to the Chair of the Career Development Committee, Andrew Palcan, Helm Group, for serving as the emcee for the live competition in San Diego!
The MCAA Career Development Committee is currently hard at work planning for the 2022-2023 project. The next project will be announced this fall and a Q&A session is already on the schedule for the GreatFutures Forum in Boston (September 29 – October 1). See you there!
---
Most Valuable Presenter
The Career Development Committee recognized a student who did the best job presenting their proposal, whether or not their team won. The audience members voted live between schools and ultimately Leisha Fernando of McMaster University was awarded a trophy, a $500 gift card and the title of 2021-2022 Most Valuable Presenter.
Related Articles