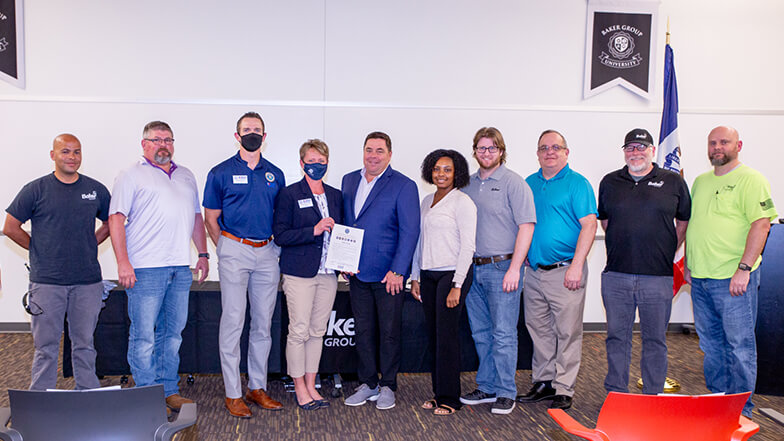 Baker Group Chairman and CEO B.J. Baker, III signed an Employer Statement of Support for the National Guard and Reserve (ESSNGR). The June 14, 2021 signing was part of an event highlighting Baker Group's continued commitment to supporting employees who are members of the National Guard and Reserve. The company is an MCAA member.
B.J. Baker was joined by members of the Iowa office of the Employer Support of the Guard and Reserve (ESGR), a Department of Defense operational committee. In signing the pledge, Baker Group unites with employers from across the country to affirm:
We fully recognize, honor and enforce the Uniformed Services Employment and Re-Employment Rights Act (USERRA).
We will provide our leadership team the tools necessary to effectively manage our employees who serve in the Guard and Reserve.
We appreciate the unique combination of values, leadership, and skills service members bring to Baker Group.
We will continue to actively recruit Guardsmen, Reservists and Veterans.
We will provide continued support to service members and their families in peace, in crises and in war.
"Our National Guard and Reserve forces are vital to our national security, whether on the battlefield half a world away, or in responding to a national disaster right here in the United States," Baker says. "As an employer of several Guard and Reserve members, we are proud to provide them stability and flexibility to help balance their work and their commitment to serve. Baker Group is more than willing to make the sacrifices necessary to ensure these valuable employees are able to carry out their missions and responsibilities quickly and effectively when duty calls."
ESGR was established in 1972 to promote cooperation and understanding between Reserve Component Service members and their civilian employers and to assist in the resolution of conflicts arising from an employee's military commitment. ESGR is supported by a network of more than 3,300 volunteers in 54 committees. In its more than 45 years of service, ESGR has been responsible for trying to foster a culture in which all employers support and value the employment and military service of members of the National Guard and Reserve in the United States.
"Baker Group has a long history of supporting members of our military, whether they are active duty, reserve or veterans," Baker says. "We are humbled by their sacrifice and proudly recruit them as they transition out of active duty or seek a supportive employer as they continue Guard and Reserve service."
MCAA applauds Baker Group's commitment to supporting employees who are members of the National Guard and Reserve.
Related Articles