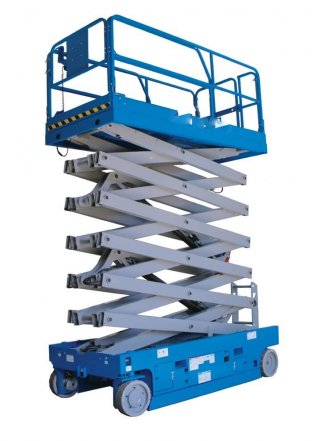 SkyJack, Genie, and possibly other brands of scissors lifts that have been outfitted with load sensors are experiencing problems. While the sensors help the user comply with the recently revised ANSI A92.20 standard's load sensing requirements, the lifts' new sensor systems allow the user(s) to elevate with an overload and may leave workers stranded at elevation.
This occurs when platform elevation is stopped at around 10 feet high or higher. The overload light comes on and the lift will no longer operate. Apparently, the load sensors are in the lift cylinder, so they cannot start measuring actual platform load until the main lift cylinder is almost vertical.
If your company is using these types of lifts, make sure your workers know the lifts' load limits and have an alternative way to accurately calculate the total load (for example, their body weight(s) plus the weight of tools, materials, etc.).
It is also a good idea to have a plan to get the workers down safely if needed. This might involve proper use of the lifts' rescue functions or use of another nearby lift. 
Related Articles