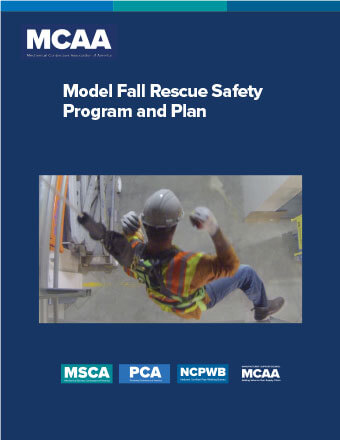 Quick rescue is paramount to keeping workers safe while they are suspended in fall arrest harnesses after falling from an elevation. Having a safety program and plan in place to address the needs of these workers is critical to minimizing suspension trauma and meeting OSHA requirements. MCAA's model program and accompanying model plan can be tailored to address various project fall arrest system applications and ensure the safety of your company's most important asset, its workers.
Ideally, suspended workers should be rescued within five minutes. Workers who are suspended longer may suffer from suspension trauma. This condition occurs when a worker is suspended in a harness long enough for the harness straps to negatively affect blood flow. When blood is not circulating properly, vital organs are deprived of oxygen. This can lead to loss of consciousness, permanent organ damage, and ultimately death if a worker is suspended too long.
Fall rescue plans are required by OSHA as referenced in the agency's fall protection standard for construction.
MCAA's model program and accompanying model plan will help you develop appropriate fall rescue plans which, when performed properly, will help limit the time that any worker is suspended in a fall arrest harness to less than five minutes.
Related Articles