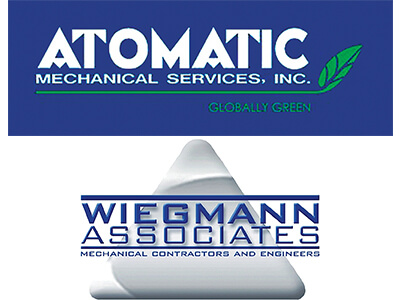 Two MSCA member companies, Atomatic Mechanical Services of Arlington Heights, IL, and Wiegmann Associates of St. Charles, MO, were recognized by Contracting Business as commercial HVAC contracting firms who are consistently at the top of their game.
There are common threads that connect them, but each firm has methods and processes that make them unique.
Each of these excellent contractors has devoted time and attention to internal processes, training and communication, and building a culture of respect for all team members.
Atomatic has yearly "themes," introduced by president/CEO Steve Stachorek, PE. These are used to help them work on specific attitudes that are so critical to effective cultures. "For 2019, our theme is "Choose Positive," he said.
"One of our key values is teamwork," said Jim Bartolotta, Past MSCA Chair and Executive Vice President for Atomatic, "and it is embedded in our culture, not just words on a wall."
Then, most importantly, each of these contracting businesses exists to provide long-lasting employment and career development for employees.
And then, of course, we can't omit training, which is synonymous with "the future." Wiegmann follows union training programs and also has weekly training sessions. Atomatic uses a Culture Index to survey employees on workplace issues towards increasing the professional and personal growth of its employees.
Each firm will be offered a seat on the Contracting Business editorial advisory board, and receive a commemorative piece for the trophy cabinet.
Congratulations to these Commercial HVAC Contractors of Excellence!
Read full Contracting Business article. 
Related Articles