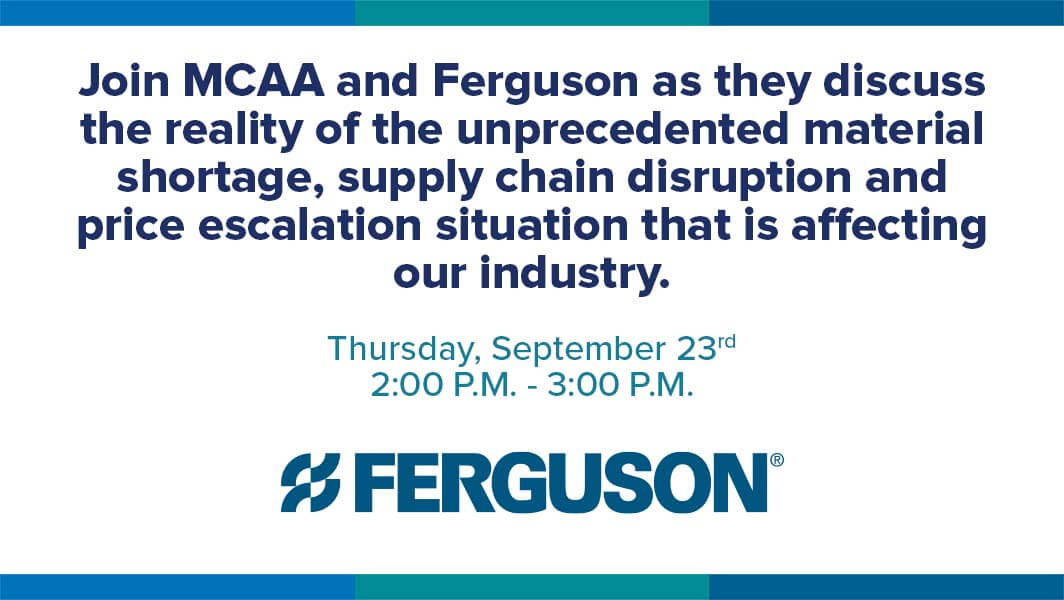 September 23, 2021 | 2:00 p.m. – 3:00 p.m. ET
While manufacturers are working to keep up with demand, unprecedented material shortages, product price increases and ongoing supply chain disruptions are impacting nearly every product category, supplier and consumer. Join MCAA and Ferguson's Vice President of Logistics Brian Sullivan and Director of Category Management Scott James, as they share insights into today's challenging supply landscape from a global perspective and how MCAA members can use that information to aid in critical business decisions and business planning.
Brian Sullivan is the VP, Logistics at Ferguson Enterprises. Brian provides strategic direction and operational responsibility for all areas of transportation for Ferguson, which include contract carrier transportation, the dedicated fleet, parcel, international logistics and trade compliance. Prior to joining Ferguson, Brian was with Google where he was the Global Leader of Logistics, Distribution and Trade Compliance. In addition, Brian has worked for J. Crew and Bed Bath and Beyond, where he held leadership roles in global transportation, distribution and supply chain.
Scott James is the Director of Categories for Pipe Valve and Fittings for Ferguson Enterprises and has over 30 years of wholesale experience managing the volatile commodity businesses. Scott has a diverse wholesale business background with an in-depth knowledge of plumbing, industrial, and mechanical/commercial products. Scott's branch sales and management experience along with his broad industry knowledge has proven invaluable to him in his role as a member of Category Management. Scott's work experience includes Category Management, Commodity Management, Program Management, Product Development, Vendor Management, Strategy Development, Procurement, Branch Management/Operations and Sales.  
Related Articles