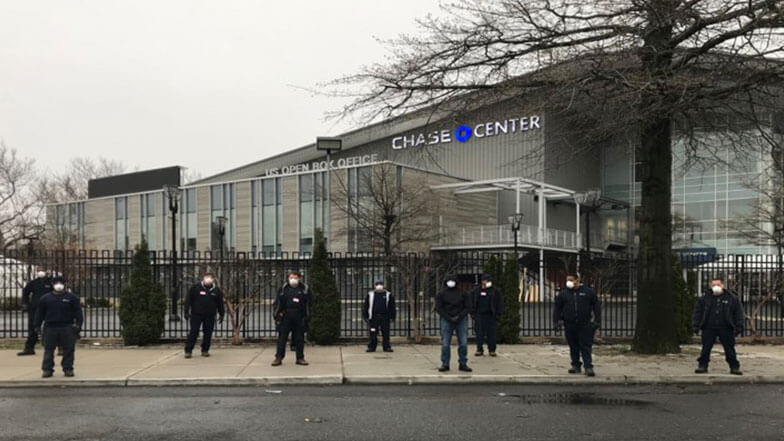 During the height of the COVID-19 crisis in New York City in April, MCAA member Donnelly Mechanical was an integral part of converting two facilities within Queens and Brooklyn into temporary field hospitals. These hospitals were staffed with doctors and nurses from around the country who traveled to New York to help treat COVID-19 patients and to relieve the burden from the nearby, overtaxed hospitals.
Following a fast-paced, intense, competitive vetting process, Donnelly Mechanical was contracted by SLS Construction to install oxygen lines at the Billie Jean King National Tennis Center in Queens. Based in Galveston, Texas, SLS Construction provides general contracting and construction management services with a specialty in aiding disaster relief efforts. Within just a few days, the combined effort between SLS and Donnelly converted a dozen indoor tennis courts into a temporary overflow hospital with 450 additional beds.
Once the hospital was up and running, Donnelly returned to the site to assist with additional work. Fully functional ventilators require high-pressure oxygen that meets precise specifications. Donnelly's service team ran high pressure oxygen tubes to the ventilator location in Ward 1, where many COVID-19 patients were being treated. The team took every possible safety precaution, including the use of proper personal protective equipment (PPE) and HAZMAT suits.
Quality Work Leads to Second Project
The GC was thoroughly impressed by Donnelly's work and quickly awarded them a similar conversion project at the Brooklyn Cruise Terminal. Work to install oxygen lines at the 750-bed facility started immediately.
Teams of 25-30 men worked very long shifts to successfully complete the conversion in five days.
Unsung Heroes Recognized
The dedication of an incredible group of service technicians and field supervisors from Donnelly's HVAC Service Team played a crucial role in the emergency response to the COVID-19 pandemic in New York City.
The team members involved in those projects were:
Doug Abramowitz
John Battles
Aleko Bode
Eddie Buffington
Raphy Caba
Daniel Carranza
Domenico Cecere
Vladislav Ceselka
Cameron Clarke
Stephen Croteau
Eliasaph Dorilas
William Duffy
Nick Feliciano
Brandon Fernandez
Robert Flynn
Kevin Gaertner
Ivan Grigorov
Richard Harker
Christopher Hartley
Luis Hoyos
Luis Joseph
John Keaveney
Delano King
Everett Kinsler
Jeremy Klink
Robert Lagomarsine
Nekeb (Chad) Laurencin
Aleksandar Lazic
James LeCrichia
Joseph Lopez
James Lovett
John Mangino
James Mansfield
Timothy Meyers
Bryan Montesino
Antonio Mota
Arnold Padarath
Gavin Petersen
George Petersen
Endri Prifti
Felix Rivera
Nicholas Rizoglou
Thomas Rogoz
Miguel Sambolin
Angel Santiago
Paul Sehlmeyer
Rejnaldo Shehi
Mitram Singh
Rajendra Singh
Christopher Soto
Cedric Spencer
Anthony Tartaglia
Henry Taveras
Lester Tom
Kevin Torres
Aaron Vanterpool
David Warner
Stanley Young
MCAA thanks the Donnelly team and all of our members who have worked tirelessly to protect their communities' safety. We're all in this together.
Related Articles