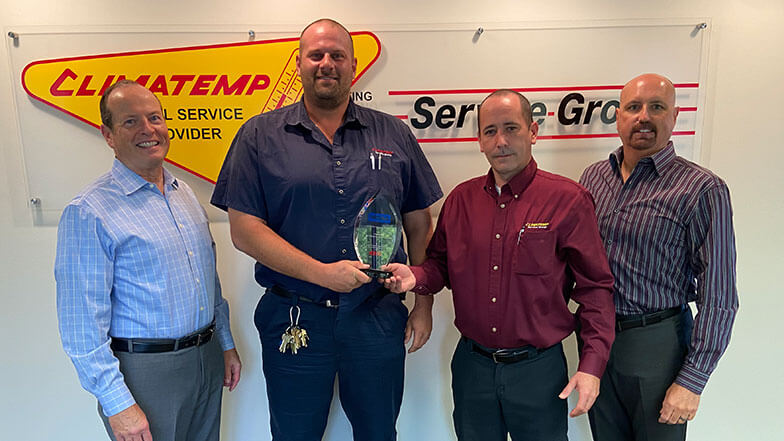 MCAA and CNA are pleased to announce that Climatemp Service Group, LLC earned the association's top safety award for 2019 in Size Category 1, Zero – 100,000 work hours. Climatemp Service Group's successful software-based "Safety Awareness" program set the company apart.
The program empowers all field personnel to take pictures and/or video clips at the jobsites using a new software program. The company's workers have been trained and encouraged to document both safe and unsafe work practices and conditions. The images and video clips are then shared with the entire company to recognize safety excellence and help prevent recurrence of unsafe acts and conditions.
Anyone who submits a report with pictures and/or video clips related to safety is eligible for a safety award. All the submissions are collected and judged, and the award is presented monthly as part of the company's required safety training sessions. Before the winner is announced, all images and video clips are shared and discussed with the workers as part of the safety training practice.
The MCAA/CNA Safety Excellence Awards Program began in the 1990s when MCAA partnered with CNA Insurance. It is a fiercely competitive program in which only the best of the best compete for the awards.
Participants are required to describe their safety programs in detail, including how they achieved safety excellence and why they believe they deserve the award. The Safety Awards Selection Taskforce, which is led by CNA, carefully evaluates each submission looking for safety leadership, an advanced safety culture, effective leading indicators of safety performance, and innovative safety initiatives that helped the company achieve an exceptionally high degree of safety excellence.
MCAA and CNA congratulate Climatemp Service Group, LLC for earning such a high degree of safety excellence in 2019.
Related Articles