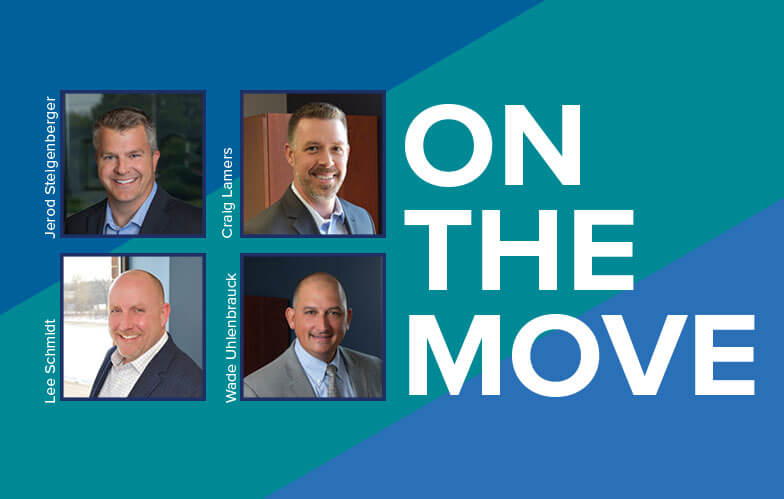 MCAA member Bassett Mechanical recently announced four strategic promotions on its executive leadership team. Kim Bassett, President & CEO, said, "These executive advancements are not only well deserved, but also the next step in creating a strong future for our business and our customers who trust us to provide customized solutions for their unique needs."
Jerod Steigenberger, Chief Operating Officer
Jerod has been serving in a dual role as both Chief Financial Officer (CFO) and Chief Operating Officer (COO) throughout the past year. He has been engaged with Bassett Mechanical's HVAC, Plumbing, and Industrial Refrigeration teams and has gained advanced knowledge about the industry. Prior to joining Bassett Mechanical, Jerod worked in a variety of financial roles within Oshkosh Corporation's Defense Segment, allowing him to bring broad experiences and skillsets to his roles at Bassett. His new role of full-time COO will allow him to make an even greater impact on the company's sales and operations.
Craig Lamers, Chief Financial Officer
Craig joined Bassett Mechanical one year ago as the Senior Director of Finance. He came to the company with a background in construction and quickly expanded his role, providing valuable insights to his team and the company's overall initiatives. In his role as CFO, Craig will be responsible for directing the financial management of the company including strategy development, budgeting, forecasting, reporting and analysis, treasury, tax, and risk management. He will also oversee the company's procurement and IT teams.
Lee Schmidt, Vice President of HVAC & Plumbing Solutions
Lee has been with Bassett Mechanical for 15 years, most recently serving as Senior Director of HVAC & Plumbing Solutions. With more than 20 years of business development and operational leadership experience, Lee has excelled in a number of roles including General Manager and Director of Operations. He has become a vital leader in all aspects of the HVAC and Plumbing segment from controls and engineering to field execution. As Vice President of HVAC & Plumbing Solutions, his role will include management of the HVAC & Plumbing segment with a focus on providing industry-leading solutions for customers' unique needs.
Wade Uhlenbrauck, Vice President of Sales & Marketing
Wade has held numerous business development roles within Bassett Mechanical over his 14-year career including: sales professional, sales manager, and most recently Senior Director of Business Development. He has earned several awards and obtained numerous sales training certificates through industry networks. As Vice President of Sales and Marketing, Wade will oversee new sales growth opportunities including strategic account management of the HVAC, Plumbing, and Industrial Refrigeration customer base, and lead new strategic initiatives to ensure Bassett Mechanical continues to carry out its vision of Creating Customers for Life™.
"My goal is to make sure our company is providing individualized, safe, full-service solutions for our customers," Kim states. "That means surrounding our company with great leaders who care as much about our associates and our customers as I do. These are leaders who want to ensure our customers get the best solution and best experience with us. I want to thank Jerod, Craig, Lee, and Wade for their continued drive and passion for making our company the best it can be."
Related Articles