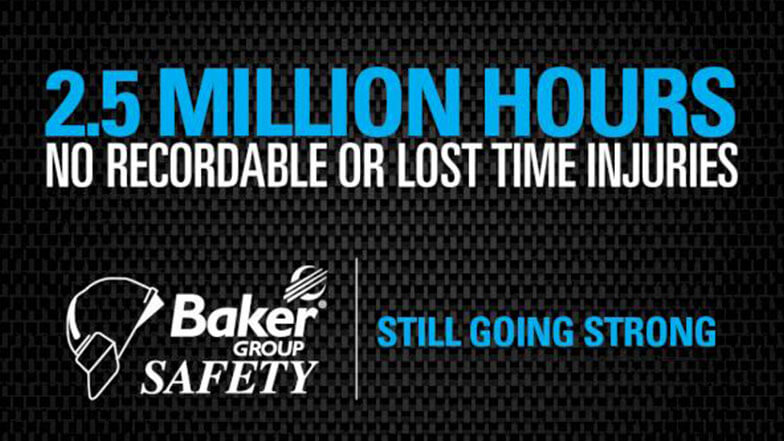 Baker Group reached a remarkable safety milestone on August 18, 2020 when the company surpassed 2.5 million hours worked with no recordable or lost time injuries. "The successes of our employees and our projects are greatly dependent on doing work safely," says BJ Baker, Chairman and CEO. "It's a cornerstone of Baker Group culture."
This milestone reflects both the high safety standards set by the company and its commitment to its clients, employees and the industries with which it connects.
This commitment shows in the awards and recognition the company has received for its safety initiatives. The two-time winner of MCAA's highest safety award, the MCAA/CNA Safety Excellence Award, has also received MCAA Certificates of Commendation for consistently earning exceptionally low occupational injury and illness incidence rates. The most recent of these was presented in 2020.
Earlier this month the Sheet Metal and Air Conditioning Contractors' National Association (SMACNA) recognized Baker Group with two prestigious national awards for 2020. These included the Zero Injury Award and the Safety Excellence Award for the lowest injury/illness rate among association participants in its highest category (over 500,000 hours of operation).
"We focus on achieving the highest levels of safe job performance as part of our planning as well as our field team operations," notes Tracy Haus, long-time Director of Safety. "We roll it into all levels of communication, education and follow-through."
A Commitment to Safety Behind the Scenes
In addition to Tracy's role leading Baker Group's safety initiatives, he is co-chair of the MCAA Safety & Health Committee. As a member of the committee for the past 10 years, he has had an active role in the development of MCAA's extensive library of safety and health resources.
He, BJ and the entire Baker Group team of safety professionals have been instrumental in the creation of MCAA's safety training videos. In addition to hosting all of the video shoots, the company has gone to extraordinary lengths in both the planning and execution of the "accidents" and "incidents" portrayed in the videos, procuring materials, equipment and locations as well as dedicating their time to being sure that things went off flawlessly. For example, see the recent videos on excavation safety, aerial lift safety, and workplace violence prevention and protection.
Congratulations to the entire Baker Group team on this major safety milestone and thank you for everything that you have contributed to MCAA's Safety Excellence Initiative.
Related Articles