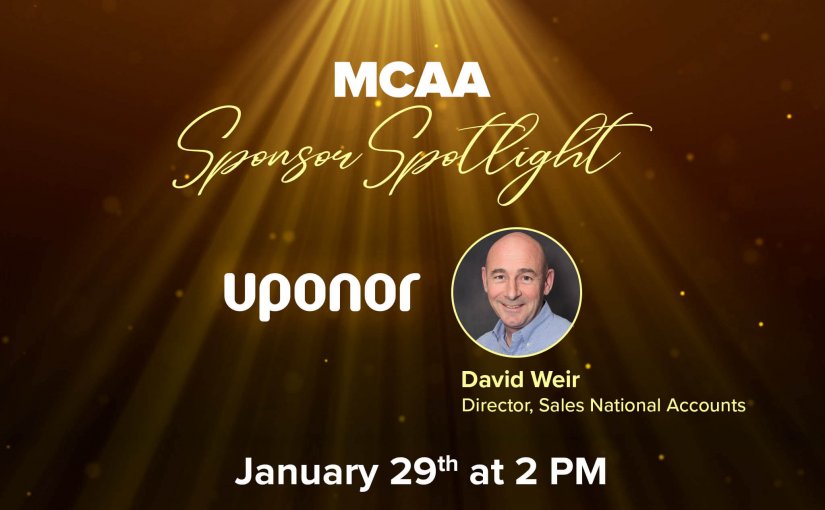 Time

2:00 pm - 3:00 pm EST
In the tenth episode of MCAA's Sponsor Spotlight series Armand Kilijian, MCAA President-Elect introduces us to David Weir, Director of Sales National Accounts at Uponor North America, a nationwide provider of polymer piping systems for residential and commercial plumbing, radiant heating and cooling, and hydronic distribution systems. The Sponsor Spotlight Series is a new way for MCAA contractor members to learn more about the Manufacturer/Supplier Council (M/SC) Governing Board members, their products, their relationship with MCAA, and what being a member means to them.
David Weir holds more than 33 years in the mechanical contracting and commercial building applications industries, with an emphasis in sales for manufacturers. Prior to moving to the United States 16 years ago, David lived in the United Kingdom where he spent more than 17 years in industry, including holding positions as a vice president of Sales and president of a European balancing valve company. He is a professional member of the Mechanical Contractors Association of America (MCAA) and the American Supply Association (ASA), and he holds an MBA from Liverpool John Moores University in Liverpool, England.
Friday, January 29, 2021 | 2:00 p.m. EST
Ready to sign up?

PREVIOUS EVENT
NEXT EVENT