The Mechanical Contracting Education & Research Foundation, or MCERF, was founded in 1989 by members of the Mechanical Contractors Association of America (MCAA), led and marshaled by Foster McCarl, Jr., McCarl's, Inc., Beaver Falls, PA, as the non-profit foundation arm to provide needed education and research programs or products that the association either could not or should not undertake.
These industry pioneers envisioned an organization that would identify and work to solve the issues that confront the organized mechanical construction and service industry, challenges such as future workforce, productivity and technology. They wanted and worked to establish an institution that could lend both professional and neutral insights into these issues; one that could work fluidly across organizational and political boundaries. The Foundation has broad access to the capabilities and resources of MCAA, an internationally-recognized trade association.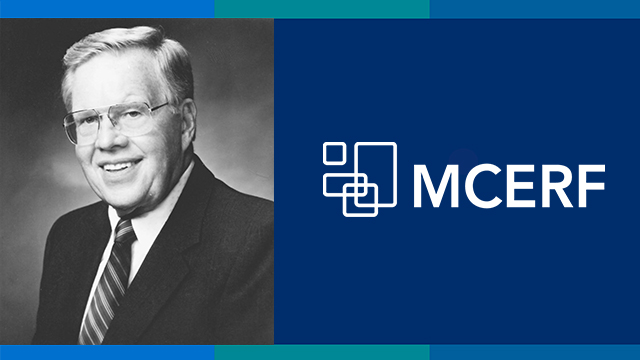 OUR MISSION
MCERF articulates and funds the mechanical contracting industry's most critical human resource and research needs by cultivating and supporting activities that allow professionals in the mechanical contracting industry to succeed in their businesses.
Board of Trustees
MCERF has a 13-member, volunteer Board of Trustees comprised of contractors, manufacturer/supplier representatives, a local MCA affiliate representative, and two members to represent the university academic community. The Board's function is to oversee and conduct MCERF industry interactions and to ensure that it maintains and adheres to a well-defined industry mission. The Board also maintains financial oversight of the Foundation, ensuring that all contributions, investments, and earnings are handled in both an ethical and mission-effective manner.
MARK A. ROGERS
MCERF President
Chief Operating Officer
West Chester Mechanical Contractors
Aston, PA
BRIAN HUGHES
MCERF Vice President
Vice President
Hughes Environmental Engineers, Inc.
Mahwah, NJ
PARTHIV AMIN
MCERF Treasurer
Chief Sales & Marketing Officer
Sloan Valve Company
Franklin Park, IL
TIMOTHY J. BRINK
MCERF Executive Director
Chief Operating Officer
MCAA
Rockville, MD
MICHAEL McCOMBIE
President
F.E.Moran, Inc.
Northbrook, IL
PROF. KRISTY L. WOLFE
Assistant Professor in Residence
Bradley University
Peoria, IL


ROBERT G. BERGMAN
Executive Vice President
Utah MCA
Salt Lake City, UT
CHRISTOPHER J. CATANIA
Director of Business Development
Bradford White Corporation
Ambler, PA
BRIAN CAUFIELD
VP – Pipes, Valves, Fittings
Mueller Industries, Inc.
Memphis, TN
JON FINCH
VP of Training
MILWAUKEE TOOL
Milwaukee, WI
STEPHEN R. DAWSON II
President
Harrell-Fish, Inc.
Bloomington, IN
ARMAND KILIJIAN
President
O'Brien Mechanical, Inc.
San Francisco, CA
BLAKE E. WENTZ, PhD
Academic Representative
Milwaukee School of Engineering
Milwaukee, WI
*The Mechanical Contracting Education & Research Foundation is designated as tax-exempt under Section 501(c)(3) by the Internal Revenue Service. Donations are tax-deductible.