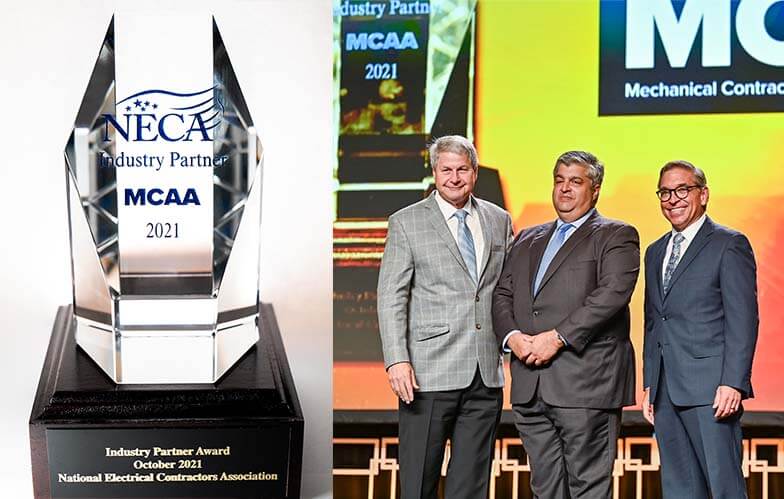 Since 1996, the National Electrical Contractors Association (NECA) has presented their annual Industry Partner Award to individuals or organizations who are allied with the electrical construction industry. This year, NECA presented and recognized MCAA with the 2021 NECA Industry Partner Award at their annual Convention in Nashville.
In early 2021, MCAA, NECA and The Association of Union Constructors (TAUC) joined forces in a strategic alliance agreement to collaborate on issues impacting the construction and maintenance industry on a national and regional level. Through this alliance, the associations conduct joint meetings and share information of mutual interest relating to environmental health and safety, industrial relations, government affairs, innovation and technology. The associations work to develop products and practices to jointly benefit their respective memberships, increase membership awareness of industry issues and more.
Earlier this year, MCAA and NECA also partnered together to put on the 2021 MEP Innovation Conference, held virtually this past April. Registration is already open for the 2022 MEP Innovation Conference held jointly with MCAA, NECA and the Sheet Metal and Air Conditioning Contractors' National Association (SMACNA) for January 24-26, 2022. This annual event will be held in-person, showcasing the industry-defining innovations being seen across the mechanical, electrical and plumbing contracting industries.
MCAA thanks NECA for this recognition and looks forward to many more years of joint collaboration in order to advance the unionized construction industry.