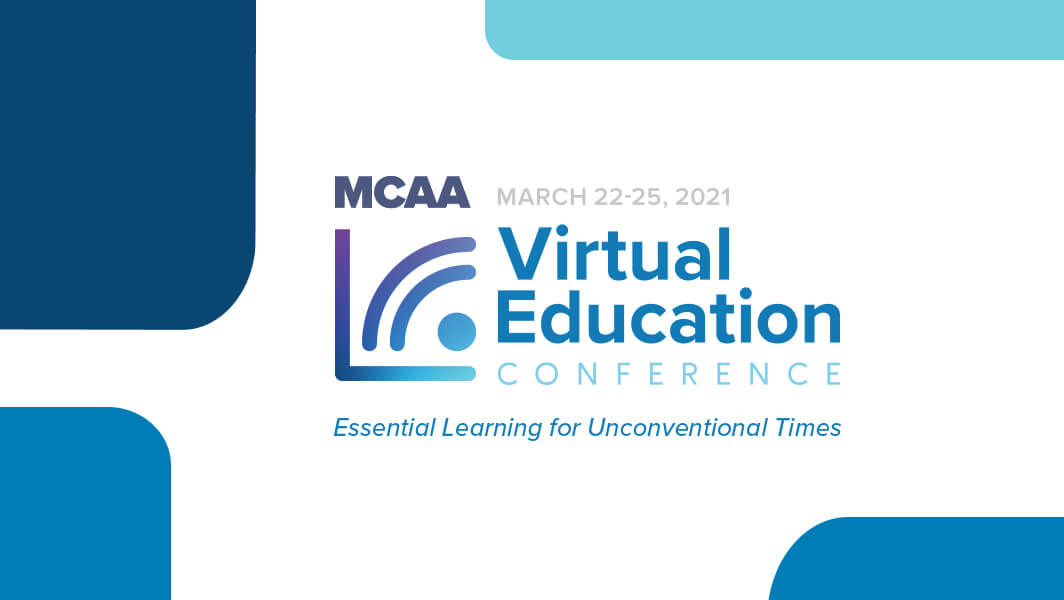 MCAA's first Virtual Education Conference from March 22-25, 2021 featured top quality education seminars and an interactive exhibit, honored award winners, thanked retiring Board members and welcomed new leaders.
Top Quality Education & An Interactive Exhibit
Education sessions showcased topics from emerging trends to driving business growth and identifying potentially critical issues. Participants heard from United Association General President Mark McManus and MCAA President Brian Helm about the importance of our labor and management relationship, and how we can work together toward a meaningful and lasting labor/management partnership.
The latest technology systems and trends were discussed, along with best practices for adapting to them. Attendees learned how to grow a strong and profitable service business, how to work better with a multi-generational workforce, and how to reduce healthcare costs, increase productivity and improve company culture and the bottom line.
An interactive exhibit featured presentations by the conference sponsors with plenty of time for questions and answers.
Congratulations, Award & Scholarship Winners!
The Closing General Session provided an opportunity to celebrate excellence and offer congratulations to award winners.
CNA/MCAA Safety Excellence Awards
MCAA President Brian Helm recognized the MCAA member firms that achieved the highest level of safety excellence last year saying, "There is nothing more important to us than the safety and health of the people on our job sites and in our companies, especially this past year."
The winners were:
W.W. Gay Mechanical Contractor, Inc.
Icon Mechanical
Mall City Mechanical 
Matrix HG, Inc.
Southwest Town Mechanical
To be eligible to win a CNA/MCAA Safety Excellence Award, a company has to submit a written application describing its safety and health program in 2020 and why it believes it deserves the award, and an innovation that helped it achieve a high degree of safety excellence last year. Companies are divided into five categories by number of hours worked, and a winner is chosen in each category.
MILWAUKEE TOOL-MCAA Safety Professional of the Year Award
MILWAUKEE TOOL Senior Vice President Scott Teson presented the MILWAUKEE TOOL-MCAA Safety Professional of the Year Award to Cheryl Wiese, Safety Director of Modern Companies in Cedar Rapids, Iowa. He noted that Cheryl was a key stakeholder in her company's ability to overcome the many challenges COVID-19 presented, from understanding the science to implementing safe return-to-work protocols and ensuring her team had the proper PPE to return to work and do their jobs safely.
John R. Gentille Foundation Scholarships
Mark Rogers, President of the newly renamed John R. Gentille Foundation, announced the recipients of the John R. Gentille Foundation Scholarships. He noted that the students receiving scholarships were selected for their academic performance, leadership skills, interest in developing a career in the mechanical industry, work ethic, and technical abilities.
The Foster J. McCarl, Jr. Memorial Scholarship
Ahmed Seck of the University of Maryland College Park received a $5,000 scholarship check in memory of Foster McCarl, Jr., without whose vision there would be no foundation. McCarl's Inc. (Beaver Falls, Pennsylvania) is the scholarship sponsor.
The William A. Bianco, Jr. Memorial Scholarship
Luke Bennett of the University of Nebraska-Lincoln received a $5,000 scholarship check in memory of the foundation's former President and MCAA Distinguished Service Award (DSA) recipient William A. "Bill" Bianco, Jr. The scholarship is sponsored by Kinetics of Fremont, California.
The Reilly Family Memorial Scholarship
Masen Dinklage of the University of Nebraska-Lincoln received a scholarship check for $5,000 in honor of the Reilly family, honoring Wayne Reilly, Emmitt Reilly and Patrick Reilly. John W. Danforth Company in Tonawanda, New York, is the scholarship's sponsor.
The Alan O'Shea Memorial Scholarship
Parker Scott Filius of Purdue University and Jakob Cimino of the University of Nebraska-Lincoln each received a $2,500 scholarship check in honor of Alan O'Shea. MCA of New Jersey is the scholarship's sponsor.
FERGUSON – Women in the Mechanical Industry Scholarship
Kimberly Sikkema of Ferris State University and Sarah Galan of Wentworth Institute of Technology each received a $5,000 scholarship, sponsored by Ferguson, for worthy female students invested in career in the mechanical contracting industry.
Josam Endowed Scholarship
Hailey Brennan of the University of Maryland, College Park received a $2,500 scholarship underwritten by the Josam Company. This scholarship category was added last year and offers established a $2,500 annual scholarship for students pursuing a degree in Construction Management, Mechanical Engineering or a similar field. Provided that all qualifications are met each year, the recipients will receive the scholarship in their sophomore, junior AND senior years.
New Student Chapter Chartered
MCAA welcomed its newest student chapter by granting a charter to Utica College in Utica, New York. The new chapter is sponsored by The Mechanical Contractors Association of the Capital District.
Educator of the Year
Dr. Sherif Attallah of Ball State University was recognized as the Educator of the Year based on his mentoring, industry knowledge, involvement, and active participation in MCAA's Student Chapter program activities. In addition to a trophy, he received a check for $5,000.
Student Chapter of the Year
The University of Nebraska-Lincoln was selected as this year's Student Chapter of the Year. The Career Development Committee chose the winner after evaluating how well the chapter promotes an understanding of the mechanical industry and the career opportunities we offer. They received a check for $3,000.
MCAA Student Chapter Competition
Fairleigh Dickinson University won the top prize of $10,000 and a trophy for their work on this year's Student Chapter Competition project, which required student chapters to act as the prime contractor on the renovation project to the historic University of Pennsylvania Museum.
Virginia Tech Blacksburg Campus was the runner-up team, placing second and receiving a trophy and check for $5,000.
Kansas State University and Missouri State University rounded out the final four. Each of these finalists received $2,500.
Six additional teams that just missed the final four were recognized with checks for $1,000. They are, in alphabetical order:
Ball State University
Binghamton University
McMaster University
Purdue University
University of Maryland College Park
The University of Missouri Columbia
Thank You to Retiring Board of Directors Members
President Helm expressed MCAA's thanks to retiring Board members, saying, "We appreciate all their time and talents, and they will certainly be missed on the Board. We thank you for your service as a member of the MCAA Board of Directors!"
Troy Aichele
Nashville, Tennessee
Gary Grandchamp
Kirlin Group
Rockville, Maryland
Ken Harbour
Cleveland Mechanical Services
Atlanta, Georgia
Bob Hightower
Apollo Mechanical Contractors
Kennewick, Washington
Bill Hughes
MILWAUKEE TOOL
Mickelton, New Jersey
Mike Brandt
Immediate Past President, MCAA
Smith and Oby Company
Walton Hills, Ohio
Welcome, New Leaders
President Helm shared some final words before passing the gavel to MCAA's 2021 President, Armand Kilijian. President Kilijian introduced the Executive Committee and new Board members who will lead the association in the coming year.
Executive Committee
Immediate Past President
Brian Helm
The Helm Group
President-Elect
Bob Bolton
Arden Building Companies
Senior Vice President and Treasurer
Robert Beck
John W. Danforth Company
Vice President and Assistant Treasurer
Rick Gopffarth
Dynamic Systems
New Board Members
Each of the following has been elected to a three-year term on MCAA's Board of Directors.
Shaabini Alford, Murray Company
John Dineen, Postler & Jaekle Corporation
Jim Gaffney, Goshen Mechanical
John Marlow, US Engineering Construction
Parthiv Amin, SLOAN
President Kilijian congratulated the new Board members before delivering his first address to the association as its president, saying:
"I look forward to continued collaboration and innovation as we see what the pandemic throws at us next and what our "next normal" will look like. There has never been a better time to be an MCAA member."

Armand Kilijian, MCAA President