Kylie Nedelka, a mechanical engineering major from the University of Missouri-Columbia, has accepted a second summer internship with SIEMENS, a member of MCAA's Manufacturer/Supplier Council. Kylie found the opportunity at the 2018 GreatFutures Forum, where she met Kristin Junia, Program Manager at SIEMENS.
"We were traveling on the same bus to Disneyland and we struck up a conversation," said Kristin. "I was impressed with her communication and how comfortable she was in new situations and invited her to visit us at the job fair the next day. When she stopped by our booth, we spoke more in depth about her education and the type of internship she was seeking, and we offered her a position with Siemens Smart Infrastructure (then Building Technologies). Ultimately, we identified a spot for her in our Seattle branch, where she worked primarily in the field."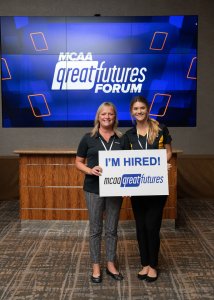 Kylie reflects on her experience with SIEMENS:
My summer internship with Siemens was incredible. I gained invaluable knowledge that has already helped me in my engineering career. Going into the internship, I was nervous that I would be overwhelmed with new information, but thanks to MCAA, I was familiar with certain subjects that I dealt with in my internship. Siemens company culture made me feel immediately welcomed. Everyone was willing to take the time to teach me, and I could apply this new knowledge to actual Siemens projects. I was truly a part of the team. 
The first five weeks of my internship was spent in the office with the engineering department. My main project was USPS service migration from insight to desig0. My last five weeks, I worked as a field technician at a data center. This experience was very rewarding because I got to do hands-on work that led to a better understanding of HVAC systems.
My experience was so great, that I have accepted a position as an engineering intern for this upcoming summer! I look forward to the new experiences to come!
Kristin Junia said, "Kylie has made a positive impact in our business. We are excited that she will be returning this summer, this time in our Chicago branch. In this role she will be more office-based, focusing on building automation system design and integration. She will work alongside our engineers to identify gaps in engineering and create an action plan to address needs. We want Kylie to experience different roles and responsibilities within Smart Infrastructure so that she is able to determine where she sees herself in the future."
Kylie and her team will compete in the Student Chapter Competition final four at MCAA2020. Attend this popular event on Monday, March 16 from 1:30 pm – 3:00 pm to witness the talent that the next generation holds. You might even find the next intern, co-op or full time hire for your company.
You can also find student chapter members at the Networking & Recruiting 360 event on Wednesday, March 18 from 9:00 am – 11:00 am. To preview students' resumes, visit mcaagreatfutures.org.
Please contact Harlee Mooney if you have questions about any of our student activities or the new 2020 internship grants funded by the John R. Gentille Foundation (JRGF).