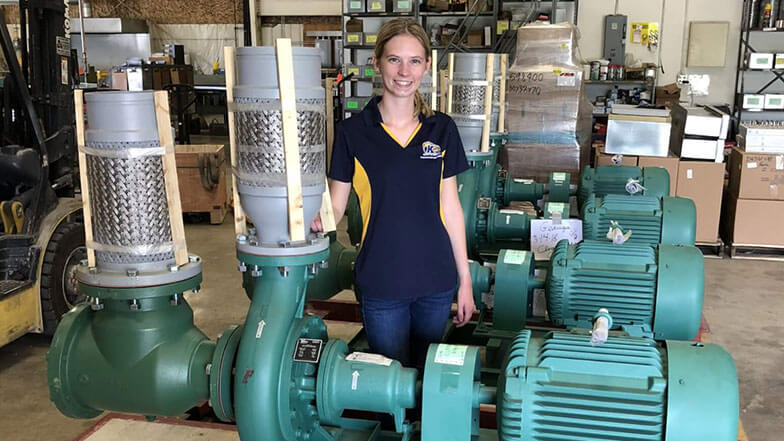 Alex Berman, a 2019 Construction Management graduate from Kent State University and a past MCAA Student chapter member, has found success in the industry as an Estimator and Project Assistant at MCA of Cleveland member Geauga Mechanical in Northeast Ohio.
"I really enjoy my role here. I get to work on bids and takeoffs, but also work on projects as they are being built. My role as a project assistant consists of equipment tracking, submittals, and quality control/punch lists. Since it is a family company, I have worked at Geauga during summers throughout high school and into college. I officially was an estimator and project assistant intern the summer before my senior year."
At Kent State, Alex was involved in the MCAA Student Chapter – even serving as its president her senior year. She says, "It was a great opportunity to work on the projects with my peers and get additional real-world bid experience. The industry professionals are great at giving support and taking us on project site tours to see mechanical elements in real life. The student chapter really gave us great opportunities to network and intern in our area."
Alex has stayed involved with MCAA through the MCA of Cleveland. "I started attending the Cleveland Chapter meetings as one of the representatives for my company. Through this I joined our local technology committee and attended the MCAA Technology Conference in San Diego. I am looking forward to learning more about technology in the industry and sharing that information with others in our local chapter."
You can find student chapter members like Alex at MCAA2020. Don't miss the Networking & Recruiting 360 event Wednesday, March 18, 9:00 am – 11:00 am. To preview students' resumes, visit mcaagreatfutures.org.
Please contact Harlee Mooney if you have questions about any of our student activities or the new 2020 internship grants funded by the Mechanical Contracting Education & Research Foundation (MCERF).