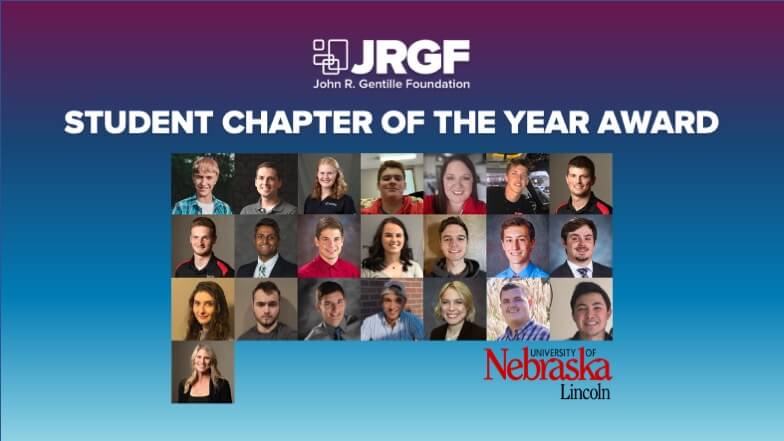 MCAA's Career Development Committee proudly awarded The University of Nebraska-Lincoln Student Chapter as MCAA's 2020 Student Chapter of the Year for their continuously outstanding achievement as an organization of students who are planning careers in the mechanical construction industry.
The University of Nebraska Student Chapter is sponsored by the MCA of Omaha. Vishnu Reddi, Assistant Professor of Practice with the Durham School, College of Engineering, is the chapter's faculty advisor. Together, this chapter managed to get creative to not only survive but thrive during an incredibly challenging year.
Community Service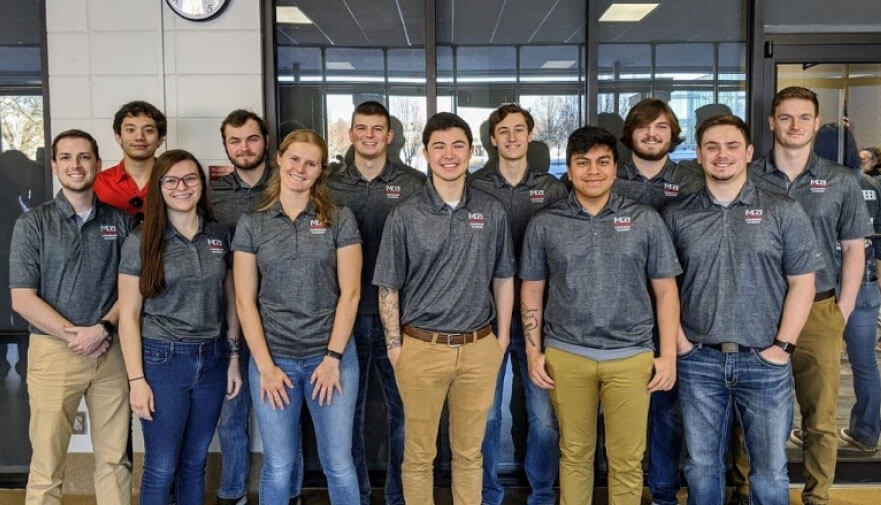 MCA-Omaha participates in a variety of community service events each year. In January, their student chapter volunteered to be judges at the NAWIC Block Kids event. This event encourages kids from kindergarten to sixth grade to build new inventions out of Lego blocks related to the construction industry. In 2020 their group had twelve volunteer judges, their largest group yet! As volunteer judges, the students interacted with the kids and helped spark their imaginations and interest in construction.
Their student chapter participated in the annual Heat's On Omaha and Heat's On Lincoln event in the fall. Heat's On consists of HVAC service members traveling with a student chapter member to the homes of elderly community members to inspect their furnaces before winter. There, the service members and the students inspect the filter, flame, sensors, flue gas, and check the batteries in all the smoke detectors. In 2020, four students participated in Heat's On Omaha, which included one brand new member, and three students participated in Heat's On Lincoln. Unfortunately, the students were not able to travel with the service members due to the COVID-19 pandemic, but were there to support the event by handing out sweatshirts, masks, and breakfasts.
A third community service event that was scheduled for 2020 was Domination Donation. This is a brand-new event created by the University of Nebraska student chapter that is a competition between local contractors to see who can raise the most money for a charitable cause. Due to COVID-19 this event was postponed. It will now kickoff this year.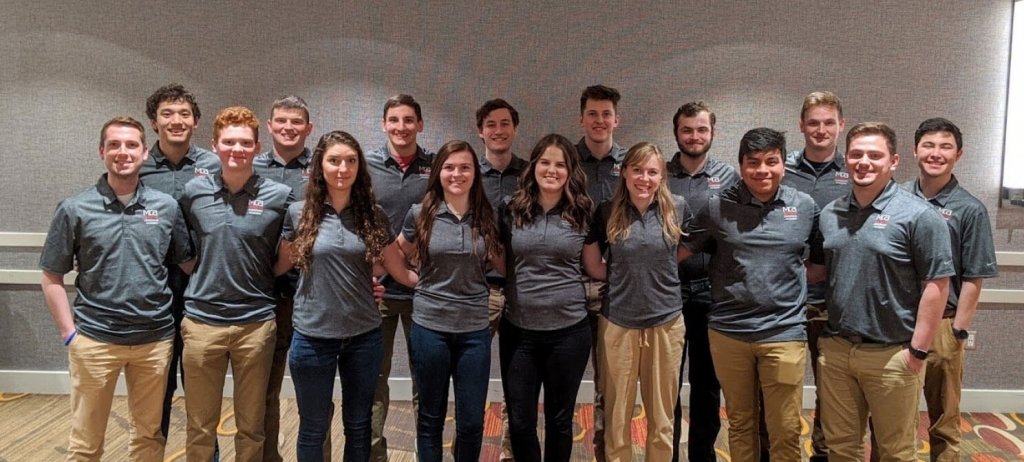 Career Development
MCA-Omaha provides numerous career development opportunities for the MCA-Omaha Leadership Academy. The students are able to gain experience and explore the industry through networking events, mentorships, internships, and full-time employment opportunities. Many events and fundraisers are held throughout the year, all of which are led by committees of MCA-Omaha Leadership Academy students. These events include beer tasting, wine tasting, golf outing, community service, competition, and recruitment. The committees include academy students, a student chair, as well as multiple local MCA-Omaha contractors interested in helping with the event. Many of these contractors have been a part of the student academy in the past and can provide insight from past events.
The mentor program is at the core of every student's career development opportunities within MCA-Omaha Leadership Academy. Each student within the academy is paired with a contractor from a local MCA-Omaha company. The students are paired with their mentors based on their specific interests about the industry. Mentors engage with the students through a variety of required activities throughout the year. One activity involves the mentor taking the student to their company's office to show them what daily work looks like for them. Another activity is taking the student for a job walk at a current job site to see how construction projects operate. Other events include getting lunch or coffee together and attending an MCA-Omaha event together. This program is a great way for students to gain experience and knowledge about the industry from a local professional.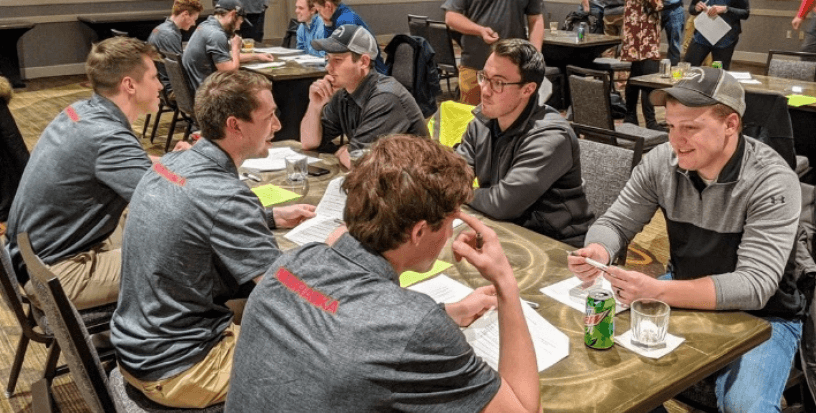 Throughout their involvement with the MCA-Omaha Leadership Academy, each student is paired with a mentor from a local company, has the opportunity to intern with a local contractor, and has the chance to serve on a committee with MCA-Omaha contractors. These networking opportunities are extremely beneficial to academy members, and the goal is for each academy student to carry those personal relationships into their future careers.
Competition
The University of Nebraska student chapter has participated in the MCAA Student Chapter Competition since it was started. The student competition this year certainly looked a bit different, but these students used this as an opportunity to find new solutions given the circumstances. Their team arranged to have three meetings with local contractors to ask questions via Zoom, which they admit was a bit challenging since they couldn't be as hands on with learning by looking through plans together in person. However, they were eventually able to have one socially distanced meeting in person, which was the most useful to their team.
Recruitment
The MCA-Omaha Leadership Academy works extremely hard to continue to find responsible and dedicated student leaders to join the academy. The unprecedented challenges this year yielded many creative solutions to continue to reach out to new students, however the chapter persevered.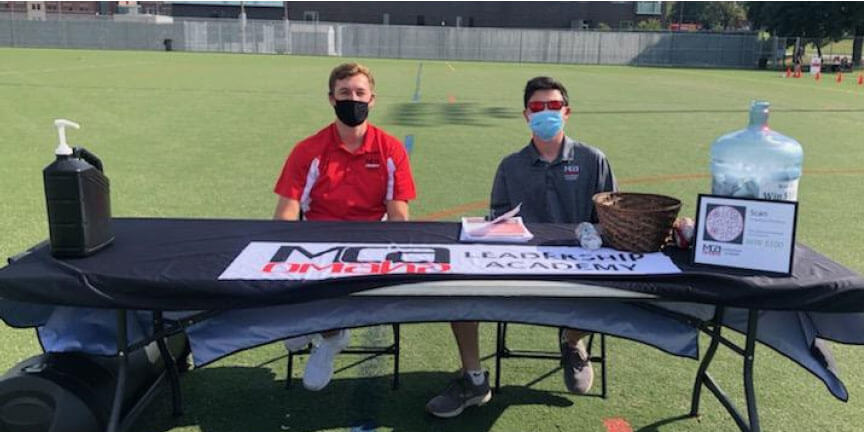 Their first event in August was a socially distanced recruitment fair in Lincoln. During the recruitment fair the students handed out flyers and applications, as well as had an estimating game to play for a chance to win a prize. The chapter also converted their annual in person Q&A event to a virtual Q&A, offering four $25 gift cards for any new student who logged on. This was an opportunity for them to meet and have a current member answer any questions they had. Three new students joined and all received gift cards.
In addition to providing virtual opportunities and reaching out to students by word of mouth, the chapter utilized the University's E-Blasts to share information about the academy with a Facebook link, as well as a slide on the Engineering College's hallway TVs for students still able to attend in person classes. In total, four new students joined their chapter, which is a huge success due to having to utilize virtual recruitment strategies.
Fund Raising
MCA-Omaha is fortunate to have support from over 30 local mechanical contractors. Their chapter typically hosts multiple events each year which gives students the opportunity to network with these contractors and raise funds for their chapter. Despite all of the challenges in 2020, they were still able to raise a total $10,031 from their fundraising events.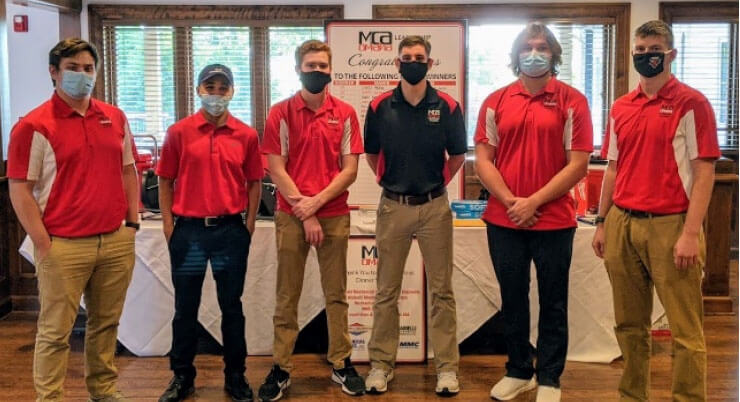 Two of their four traditional fundraising events were canceled due to the COVID-19 pandemic. Fortunately, the golf outing raffle in October proceeded with a few modifications. Instead of announcing the raffle winners live, a large white board with numbers was used to display the prize winners, that way the participants could grab-and-go with their boxed lunches. Their Golf Outing chair recorded a video message and sent out an MCA Omaha E-Blast announcing three mystery winners who each received $500 cash. Overall, they raised $1,192 at their 2020 golf outing.
Their wine tasting in November took place in a virtual setting and was a huge success. They were even honored to be joined by MCAA President Brian Helm. Typically, this event involves the student members serving various wines and cheeses to contractors who purchase a table at the event. The wine committee worked together to move this event virtually, by delivering 5 bottles of wine to each household for them to sample and enjoy. The deliveries were a great way for students to visit MCA Omaha companies and see their offices.  For this event they raised $8,839, their most profitable wine tasting to date!
Field Trips
As a part of being involved with the MCA-Omaha Leadership Academy, each student must take a job site visit with their mentor, as well as visit their office. With 20 members in 2020, that is 20+ field trips through their mentor program alone! Unfortunately, all the other scheduled group trips this year were cancelled.
Internships with Mechanical Contractors
In 2020, out of the 20 current students and 4 new members, the chapter had 15 (63%) of students have internships with MCAA companies with 91% of the group having some sort of internship. Each year, students have the opportunity to participate in Internship Day in the fall. Internship Day is where students can interview with multiple MCAA contractors looking for interns the next summer and are placed where they would be the best fit. One benefit of 2020 is that the students found themselves with a lot more free time on their hands with virtual learning and many were able to work part-time during the fall of 2020 and especially during the long winter break from Thanksgiving to mid-January. Of their four new members, three have been accepted for an internship during the school year and for summer 2021.
Employment
The chapter had one student graduate in December 2020. He is currently employed with Helm Group, an MCAA member, meaning they had all (100%) of their graduates employed with mechanical contractors last year!
Congratulations to The University of Nebraska-Lincoln Student Chapter on this well-deserved recognition!