National Education Initiative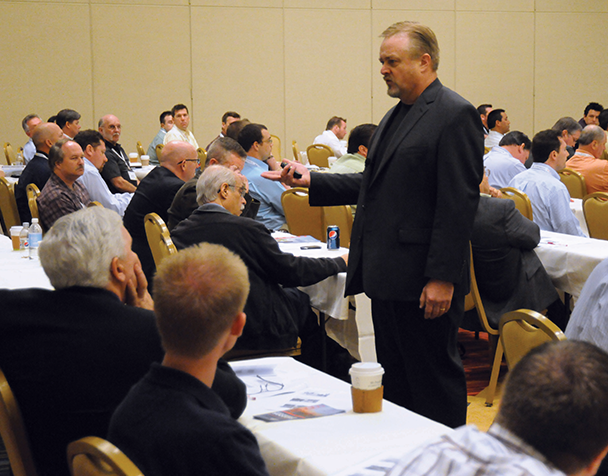 NEI Seminars Are Ready to Come to You!
Standard Courses or Something Customized Just for You – MCAA's National Education Initiative (NEI) has you covered!
If you need training quickly, this option is for you! Read on to see what we have.
Advanced Supervisory Education Seminars
John Koontz, MCAA's national director for project management and advanced supervisory education, shares what he's learned from 15 years with MCAA contractors and his time as a tenured associate professor with Purdue University's Department of Building Construction Management.
Planning Skills for Foremen
Productivity Improvement: Material Management and Site Planning Methods
The Foreman's Role in Project Documentation
Managing Labor: Coding, Tracking, and Forecasting
Essential Management Skills for the Project Foreman
Managing Change at the Jobsite
Critical Leadership Skills for Project Foremen
Successful Survival of Project Closeout
Everyday Negotiating Skills for Jobsite Supervisors
Managing Your Subcontractors
Practical Time Management Skills for Foremen
Qualities, Characteristics, and Habits of the Industry's Best Foremen
BIM for Mechanical Contractors Seminars
Looking for broad and basic knowledge of building information modeling, or BIM? Brett Endres, a senior project manager and BIM manager at Modern Construction Services LLC (MCS), teaches what he's learned as he grew his company's Detailing Department from a group of 2 drawing 2D shop drawings for installation, to a group of 26, providing 3D modeling, estimating, and trade coordination services.
BIM – Managing the Process, Controlling the Cost
Kick-Starting BIM, Because You Must: A Primer for Entering BIM
Getting the Most from BIM Project Execution Plans
Implementing and Managing the BIM Process Within Your Organization
Project Profitability Seminars
MCAA Past President Tom Williams will help you identify ways to improve project profitability during these seminars. He is the author of MCAA's Planning for Profitability: Your Guide to Successful Preconstruction Planning and the Successful Project Management Flowchart. These seminars are recommended for groups of no more than 30 participants.
Planning for Productivity: A Case Study
Managing Change Orders and Documenting Construction Disputes
Six Habits of Highly Productive Foremen
Six Habits of Highly Profitable Project Managers
Jobsite Productivity: How to Protect It…How to Improve It
How to Turn Around a Job Going Bad: A Case Study
Fundamentals of Project Management Seminars
John Koontz, MCAA's national director for project management and advanced supervisory education, shares what he learned during 15 years with MCAA contractors and his time as a tenured associate professor with Purdue University's Department of Building Construction Management.
Conducting an Effective Turnover Meeting
Pre-Construction Planning and its Effect on Profitability
Productivity Improvement: Material Management and Site Planning Methods for Mechanical Projects
Cost Control I: Fundamentals of Job Cost Control
Project Billings and Maintaining Positive Project Cash Flow
Contracts I: Using the Contract as a Tool for Project Management
Time Management Skills and Managing Multiple Projects
Effective Project Documentation
Change Order Management I: Procedures for Successfully Managing Change Orders
Critical Leadership Skills for Project Managers
Change Order Management II: Analyzing, Identifying, and Calculating the Real Costs of Project Changes
Contracts II: Analyzing, Understanding, and Managing Contract Risk
Essential Management Skills for the Project Manager
Negotiating I: Basic Negotiating Skills for Project Managers
Mechanical Scheduling I: The Basics of Scheduling a Mechanical Project
Value-Based Mechanical Project Management
Managing the Risk of Owner Furnished Equipment
Profitably Managing Your Subcontractors
Successful Survival of Project Closeout
Basic Construction Law Concepts for Mechanical Project Managers
High Impact Communication Skills
Best Practices of Blue Chip Mechanical Project Managers
Job and Company Operations Seminars
Kathryn Crosby, former chair of MCAA's Project Managers Education Committee, helps foremen and superintendents run more profitable, less problem-prone projects. She is the author of MCAA's popular
Project Manager's Manual
.
Project Coordinator Training
Successful Business Communications – It Begins at the Beginning
Construction – A People Business
Contract Language – What You Don't Know Can Hurt You
Dealing with Difficult People at Work
The Art of Being an Effective Manager
Maximizing Your Cash Flow
Control Your Life by Controlling Your Time
Understanding and Resolving Conflict
Interpersonal Skills of the Project Team
Basic Business Writing for Foremen
Written Communication Skills
Re-Energize Your Workforce
Moving Forward When the Economy is Holding You Back
The Business of Contracting: Back to the Basics
Managing Project Risk through Solid Documentation
Construction Financial Management: It's More Than Accounting
Financial Statements: What You Always Wanted to Know but Were Afraid to Ask
General Conditions of the Contract
Knowing the Score
The Profitability of Safety
Safety: The Foreman's Critical Role
COURSE DETAILS
SCHEDULE A COURSE
Strategic Management Seminars
James (Jim) McCarl, a nationally recognized speaker with a 30-year career at the helm of McCarl's, Inc. helps you strategically manage risk. You will gain insights into proven methods for developing effective strategic plans and key factors to implement and maintain them.
Succession Planning…or Else
An Outside Board of Directors…the Missing Link to Your Success
Building a Culture of Safety…More Than Numbers
To Be Green or Not To Be Green? That is the Question
Surviving and Thriving in Difficult Times
Strategic Planning – Your Springboard to Success
Risk Management for the Savvy Mechanical Contractor
Cash is King
Profit Is Not a Dirty Word
Advanced Strategic Planning
Contracting 201: Educating Your Foreman to Better Understand the Business of Contracting, Why Profitability is a Team Effort and How they Impact the Bottom Line
Custom Courses Designed Exclusively for Your Company
Don't see something quite right? Our instructors will work with you to customize a course that meets your needs.
Looking for Service Programs for Your Location?
MSCA has more than 20!
Managing Service Projects
Woody Woodall, an MSCA leader and innovator, shows service project managers how to effectively efficiently juggle all facets of this fast-paced and demanding position. A role-playing case study helps attendees gain a better understanding of the challenges encountered during each step of the project.
Employee Development Series
Communication Skills for Building Better Working Relationships
Word Power: Making E-mails and Other Written Communications Effective
Time Management: From Chaos to Control
What Motivates Me? Managing Personal Work Expectations
Managing Personal Change in the Workplace
Conflict Resolution: Turning Resistance into Productivity
Verbal Impact: Getting Comfortable with Public Speaking
The Art of Listening: Responding with Purpose
Valuing Differences: Diversity in the Workplace
Service Team Accountability: Success through Personal Actions
Gender Differences and HVACR: Seven Rules for Soaring about the Rooftops
Service Skills Development Series
Nancy Bandy, a professional trainer and management consultant with more than 20 years of experience in corporate training, sales and management development provides tips for navigating the HVACR workplace.
Sales Development Series
Mining for Customer Gold: Prospecting for the New Salesperson
Customer Connections: Building Positive Sales Relationships
High-Impact Sales Presentations: Making a Profitable Impression
Managing Your Sales Career: Time, Territory and Stress
Team Presentations: Making the "Right Hand" and the "Left Hand" Work Together
Positive Negotiating: Turning Opponents into Partners Customer Service Series
Service Skills for the Service Professional
Creating a Culture of Service from the Top-Down
Customer Loyalty: Managing Your Most Valuable Asset