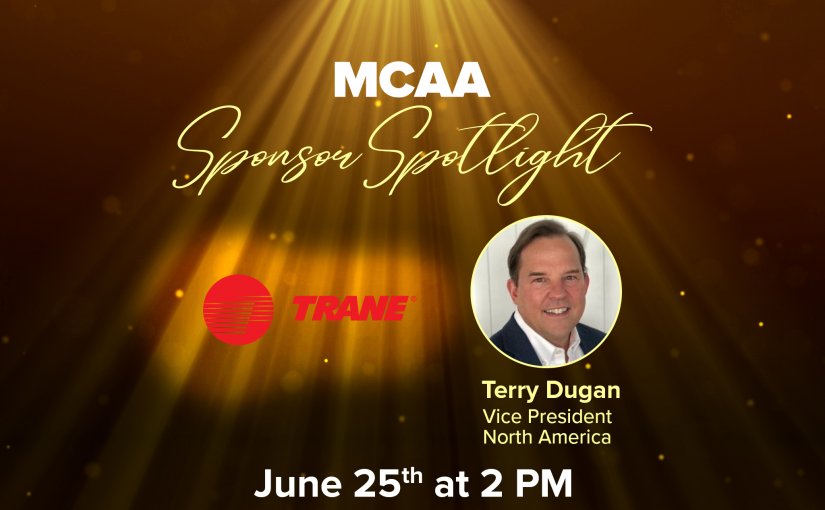 Time

2:00 pm - 3:00 pm EDT
In the 23rd episode of MCAA's Sponsor Spotlight series, Robert Beck, MCAA's Senior Vice President/Treasurer welcomes Terry Dugan, Vice President – North America for Trane. The Sponsor Spotlight Series is a new way for MCAA contractor members to learn more about the Manufacturer/Supplier Council (M/SC) Governing Board members, their products, their relationship with MCAA, and what being a member means to them.
Terry Dugan is vice president, Commercial HVAC North America at Trane Technologies. In this role, Terry is responsible for North America sales and operations for the Trane® Commercial HVAC portfolio of high efficiency, industry-leading HVAC systems, services, controls and energy reduction solutions. A 35+ year veteran of the company, Terry has propelled business growth, innovation and operational excellence through a variety of general management and global leadership roles of increasing responsibility. Prior to his current role, Terry served as vice president for the company's Building and Energy Services business. He also serves as the lead director for Trane Technologies on the Mitsubishi Electric Trane U.S. (METUS) board of directors. Terry holds a Bachelor of Science in mechanical engineering from Vanderbilt University and earned a Master of Business Administration from the University of Michigan Stephen M. Ross School of Business.
Friday, June 25, 2021 | 2:00 p.m. EST
Ready to sign up?

PREVIOUS EVENT
NEXT EVENT