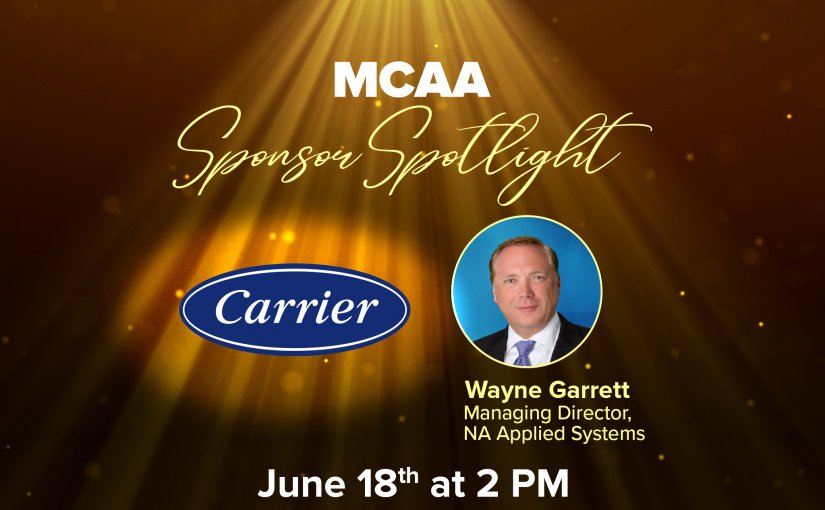 Time

2:00 pm - 3:00 pm EDT
In the 22nd episode of MCAA's Sponsor Spotlight series, Bob Bolton, MCAA's President-Elect is joined by Wayne Garrett, Managing Director, NA Applied Equipment for Carrier Corporation. The Sponsor Spotlight Series is a new way for MCAA contractor members to learn more about the Manufacturer/Supplier Council (M/SC) Governing Board members, their products, their relationship with MCAA, and what being a member means to them.
Wayne Garrett comes to Carrier with over 27 years of industry experience in commercial equipment and control sales.  As Managing Director of NA Applied Systems he has P&L responsibility for all commercial equipment business including production factories in both Charlotte, NC. and Monterrey, MX.  In this role he oversees Applied equipment sales through all distribution channels as well as managing Carrier's national accounts and global export business. Prior to joining Carrier, Wayne held various branch, regional, and corporate leadership roles within the industry.  He has led key marketing initiatives for healthy buildings and indoor air quality (IAQ), central plant optimization, optimized building wide systems' platforms, and software as a service (SaaS) offerings. Wayne earned his B.S. in Mechanical Engineering from the United States Military Academy, West Point, NY and holds a Master of Science, M.S.M. degree in management from Colorado Technical University. 
Friday, June 18, 2021 | 2:00 p.m. EST
Ready to sign up?

PREVIOUS EVENT
NEXT EVENT